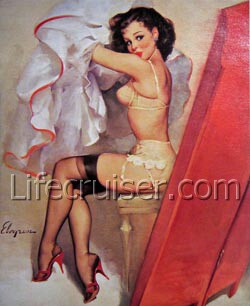 Screen Test, 1964.
Oil on canvas. Gil Elvgren.
© BROWN & BIGELOW, INC, ST.PAUL, MINNESOTA
So, no sercret island today either? And no more A-Team Passes handed out yet? Man, what am I doing since I never get those done? *giggles*
Well, yesterday we were visiting my Mom to cheer her up and today we have another interesting mission to carry out!
I discovered that the Royal Swedish Opera House is going to sell out some of their costumes, so we're going to their warehouses to have a look. I need a cape and hat that might fit to my 17th century and medieval dresses.
If I'm allowed to and if they have something worth to show, I'll take some photos to show you!
We might even take some nice lunch somewhere… Or afternoon beer, after all it's Friday

Time for the Friday joke:
From the Lifecruiser ship, everyone can see a halfnekkid woman on a small island who is shouting and desperately waving her hands.

"Who is it?" a passenger asks the captain.

Captain Lifecruiser replies:

- "I've no idea. Every year when we pass, she goes nuts."
I sincerely hope that this won't be Ev, since she's going to Maui and will start to report for our cyber cruise the 25th…. *giggles*
Captain Hag Rag Lifecruiser

Last Cyber Cruise Event:
♥ Hiking away in The French Alps
♥ Howard Castle
Coming Cyber Cruise events:


♥ The Secret Island, Sweden (Secretly soon
♥ Another castle in Lincoln, England
♥ Fulu Fjäll (mountain), Sweden
♥ Uppsala, Sweden
♥ Denmark - Germany
♥ Algarve, Portugal
♥ Scotland (several posts)
♥ Fuerteventura, Spain
Do you want to hop aboard at next event?
Read about Cruiser Grades.

Read more about Lifecruiser cyber cruise.
Lifecruiser Archive 2007
Lifecruiser Blogroll Code
Cyber Cruise Souvenirs
Lifecruiser Cyber Cruise in Technorati

© Copyright
Lifecruiser.com
. All rights reserved.