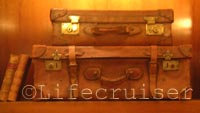 As you might have noticed we've had a cyber cruise going on here on Lifecruiser, which started in Stockholm, Sweden.
Then we cruised to 13 other wonderful and exciting places which I recommend you to check up if you haven't before! It's well worth the cyber trip!
I want to thank all those wonderful cruisers that have put down so much work to guide us at the ports so far. You have been incredible and we have had so much FUN!
These are cruisers with a hilarious sense of humor, so can it be anything butt a success?
1) TorAa Mirror & RennyBA's Terella in Oslo, Norway and in Rome, Italy
2) Writer's Cramps in Waterloo and in Brussels Midi Market, Belgium
3) Maremagnum in Barcelona, Spain
4) Irish Church Lady in Pirate Bay and in Ottawa, Canada
5) Coffee 2 go in Berlin, Germany
6) The Dackel Princess in Alaska (!)
7) Insanity Prevails in Chesapeake Beach, US
8) Coffee 2 go in Dominican Republic even dancing Merengue!
9) Hootin' Anni in North America Surprise
10) aka R'acquel in Leura in the Blue Mountains, NSW, Australia after we had some Brazilian waxing!
11) Lifecruiser in South West Iceland.
12) Not to mention the Crazy Hat Parade we had where Gattina was the natural winner!
13) I'm really looking forward to The Cruise Ball the 14th of April, because these cruisers really know how to partayyyy

…and the preparations for the ball, 12th April Shopping day & 13th April Spa & Resort day! Say no more!
There will be a cruise pause regarding visiting ports during the Easter holidays from now, I guess we"ll be out on the open water just cruising around for a while enjoying the Sea. We need to rest and spend some more time with our familys….
Captain Pleased Lifecruiser
NOTE: Don't miss the excellent deal to get something tailored from R'acquels Boutique in return for the fabrics doubled up. She needs fabric from around the world!

Happy Easter holiday

Next week: Preparations before the big Cruise Ball!
Do you want to hop aboard at next event?
Read about Cruiser Grades.
Read more about Lifecruiser cyber cruise.
Cyber Cruise Calendar 2007
Cyber Cruise Souvenirs

Lifecruiser Cyber Cruise in Technorati
Want to participate in Thursday Thirteen?

Keep Swabbing »