Some times, like in my own case, you can trace your photo interest back in time, inherited from your father. I also inherited some smaller photo items from him, though not all the ones I would have wanted – he had several cameras…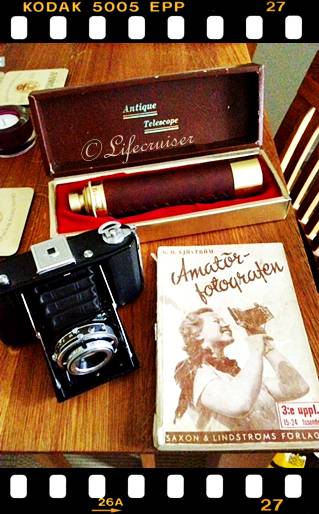 This one above is just one of his old cameras, his "compact-camera" small enough to fit in the pocket – probably old times travel camera, don't you think…?
The photo book is very scientific with lots of technical details and instructions of as well photographing as developing film – which I remember that he did by himself in our bathroom. The book was published in 1942 in the third edition – you can tell photo was a big hobby already back then!
His inscription in the Swedish book "Amatörfotografen" (The Amateur Photographer) tells me that he bought it in 1947, which makes me wonder if the camera were bought at the same time – or if it was some of his other cameras that he bought at that time.
- And don't you just love the fact that it actually has a woman photographer on the cover of the book…? I do!!!
The camera is a Zeiss Ikon Nettar 515/16, S/N:R95250, a folding camera for 120 roll film (12 photos), 6×6-format, with folding viewfinder. Weight: 485gram. Lens:Novar-Anstigmat 1:4,5 f=7,5cm Aperture:4,5-22. Focus range: 1,2m-Endlessly. Pronto shutter B-25-50-1/200delssek.
Made in Germany, probably around 1946-1951. There are older and newer Nettar cameras than this one and with a lot of different lenses or shutters and was extremely popular, maybe even one of the most popular of all Zeiss Ikon cameras.
To be sure of the manufacturing date of the camera is almost impossible unfortunately. There is a serial number on it, but since there is no documentation of the numbers available anywhere, it's almost impossible to know for sure. You can search on the internet and in old magazines for pictures and information about the Nettar cameras, to at least be able to tell around which years, but seldom more exactly.
Zeiss Ikon made it easier with the two red mark's setting. There is one red mark for the aperture and another red mark to set the focus, giving the optimal setting for the lens, you just have to adjust the shutter speed after your actual light conditions. At this camera above, focus is around 8 meter and the aperture between 8 and 11, to get acceptable sharpness from around 6 meter to endlessly at normal photo sizes.
I haven't tried to take photos with my fathers camera above (and I'm giving it away to my brother now), but it should be fully functional since I can't see any damages on it and there still is film to buy in some photo stores that will fit those kind of cameras.
If you get a similar one in your hand I recommend to try it with black and white film first – what an authentic feeling it must give!
©Lifecruiser Love Vintage Cameras
Some other posts about Vintage Cameras by Lifecruiser:
Sexy Miss Gotland 1953 Vintage Photo
Vintage Still Photo Equipment