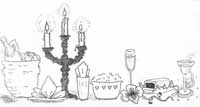 We are free. Taking the day off for free pleasures. There is so many really pleasant things to enjoy that are for free and that makes you feel free.
I'm talking about taking care of ourselves, spending qualified time together, we're pretty good at it every day, but now I'm talking about 100% attention to each other.
All that important things that are like massage for both your body and soul.
It's cozy love time…