Generally in Stockholm, it has not been many skyscrapers built yet despite it being a capital city. Some high houses exists though and one of them is what looks like a rather modest apartment skyscraper of 16 stories only, situated in Bromma, the outburst of Stockholm city.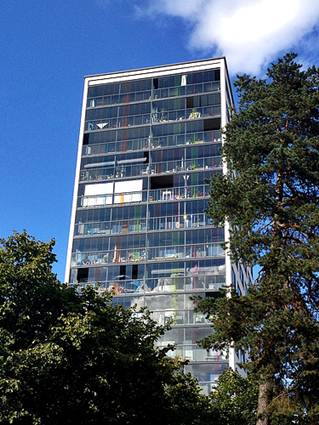 The building has been nominated to Stockholm Building 2010 for it's design by the Swedish architect Per Johanson, who played with pastel-colored balcony windows glass as a contrast to the white side of the house which continues over the roof and is supposed to make the house look like it's upside down U-shaped – at least on a a distance.
What's so special (read scary!) with this house is the balcony rail of glass from floor to ceiling that hangs like a loose plate outside the balcony itself. I'm afraid of heights myself, so my first thought was how I would dare to go to the front of the balcony rail without getting the feeling of falling down…
When traveling by the subway train passing by the house, you get many reflexes in the colored glass on the house. The more practical side of me thought: how difficult to clean the windows, so much glass everywhere – and how to clean the outside?
I suppose they hire professional windows cleaners to get the job done and not hanging out from there themselves. Phew!
This whole area at Brommaplan is now in the plans of renewing with 600 new apartments as well as 14000 kvm shopping/service areas and it was not a day too early if I should be honest! It's a bit worn down and not effective used today.
Stockholm is growing and developing – all places need to catch the modern time we are in even though we also need to keep the wonderful old architecture Stockholm has too.
©Lifecruiser Love Stockholm