Being in Scandinavia or more exact, in Sweden, there is one sport event coming up very soon, that is more unusual and interesting than others: the Vikings Ice Race or Vikingarännet in Swedish. 80 kilometer long ice skating between the town Uppsala and Stockholm, Sweden's capital city.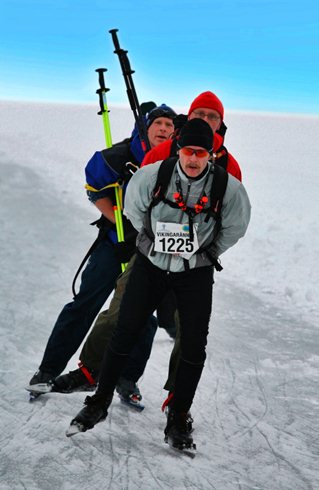 The idea of a Viking Ice Race popped up when visitors from the skating organisation from Holland visited Sweden after their Eleven Cities Tour (Elfstedentocht) of 1997 together with the winner of that years competition. An investigation started which later did show that the only route possible of a Swedish skate competition is just the route Uppsala-Stockholm, because it's there the safest ices are with not so much open water.
To skate between Uppsala and Stockholm had been a classic route for all kinds of ice skaters for many years already before the Viking Run started for the first time in 1999, organized by the Friluftsfrämjandet organization and the Swedish skate association including other sponsors.
In 2013 it's scheduled to go off at the 10th of February around 8am at Skarholmen, Uppsala and finish in Hässelby, a suburban of Stockholm. The Viking Run race is probably the worlds longest recurring ice skate race that take place on only natural ice and not on a special built up or artificial ice track.
There are actually several different races:
The Vikingarännet 80 km start in Uppsala
Tjejrännet (Women Race) 35 km start in Sigtuna
A short race of 15 km start in Kungsängen
The race got it's name from following the ancient Viking transport routes on lake Mälaren, but you don't have to be a Viking to participate. All types of skates are allowed and I actually hope for some participants to choose similar skates as the Vikings!
Yes, even the Vikings did skate, but their skates were made of animal thigh/shin bones, had no shoe and were attached by leather strings only. At just one spot on the Swedish island Björkö, in the Viking town Birka, they found 70 skates together.
In this year's vikingarännet there are more participants from other countries in Europe, like Great Britain, Belgium and Holland (last years winner) of course – so obviously this Swedish competition starts to be more known around Europe's ice skaters.
If you have the opportunity to get there, there are plenty of places where you can see the ice skaters swooshing by. Or why not sign up for the race? Go to vikingarannet.com to signup or get more information.
Sign up for a distance that suits you, read the rules properly (ex. Ice prods are compulsory), prepare yourself to skate strong as a Viking, hope for great weather reports and have fun racing!
Lets hope the cold weather will continue, so there will be great ice's for skating, you never know with the Swedish weather…
To get there:
From Europe there are low budget airlines like Norwegian.com or Ryanair.com to fly you to Stockholm, but I would try to get a Norwegian flight in the first hand, because you will arrive at Arlanda airport, which is much closer to the event than Skavsta airport where Ryanair arrives.
I also recommend that you take the arlandaexpress.com into Stockholm City Center or if you are going to Uppsala, take the special flightbus 801 between Arlanda airport and Uppsala. Also have a look at the arrivalguides.com and look up either Stockholm or Uppsala to get more start info about the two cities.
Special thanks to:
Anders Tysk, secretary-general and one of the originators of Vikingarännet for replying to my request, providing me with more information and pictures from the competition to use when writing this blog post.
©Lifecruiser Love Viking Ice Run