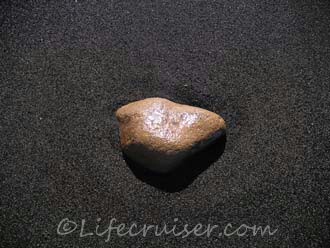 Join Wordless Wednesday
A worrying stone fell from my heart. Why? I went to the dentist and the sentence wasn't that bad. Phew!
This is a stone I captured at a beach with black lava sand at the island Lanzarote (Canarian island) in Spain. The whole beach were black, quite an unusual experience!
Captain Explorer Lifecruiser
♥ Don't miss Lifecruisers Halloween 23-31 October, with a spooktacular Halloween Party the 31th! Read more about it here!

All bloggers are welcome, come you too!

Help us spread the word by displaying a button in your sidebar – with a link back to this blog – grab them over at Sanni's blog!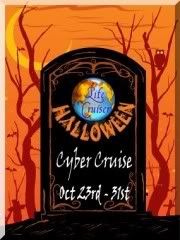 Coming Cyber Cruise events:

♥ Olive tree's fest in Ollioules (Mon 15 Oct)
♥ LC Blogwarming Party (Middle October)
♥ Your oddly ghost Halloween post (Tue 23 Oct)
♥ Share your scare! (Thur 25 Oct)
♥ How do You Celebrate Halloween (Tue 30 Oct)
♥ Halloween Party (Wed 31 Oct)
♥ Cebu, Philippines (Sat 3 November)
♥ Strömstad, Sweden
♥ Corfu, Greece
♥ Denmark – Germany
♥ Algarve, Portugal
♥ The East Coast of Scotland
♥ The West Coast of Scotland
♥ Fuerteventura, Spain
♥ Miami, US (November)
♥ Panama Canal (November)
♥ Buenos Aires – Argentina (Second half of December)
♥ Foz do Iguazu, Brazil/Paraguay (Second half of December)
Do you want to hop aboard at next event?
Read about Cruiser Grades.

Read more about Lifecruiser cyber cruise.
Lifecruiser Archive 2007
Lifecruiser Blogroll Code
Cyber Cruise Souvenirs
Lifecruiser Cyber Cruise in Technorati

© Copyright
Lifecruiser.com
. All rights reserved.