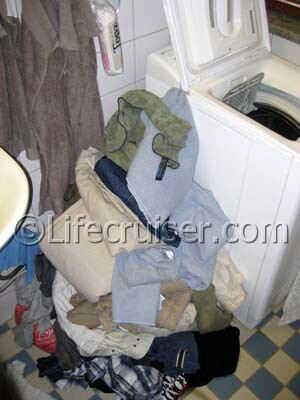 Wordless Wednesday
OK, I couldn't resist to post this more unusual travel photo. *giggles* Everybody is posting such beautiful or interesting photos all the time. This is the reality – the aftermath of being away for over 5 weeks.
Note the towels on the top of the laundry mountain, that is special travel towels of microfibre. The green ones are Sea Summit Tek towels and the blue ones are Eagle Creek Travel Towels.
They may not be as comfortable to use as normal towels, but I must say that we're very pleased with them. They really are functional, making you dry on no time, very absorbing, dries quickly and take up much less space, both features that is important when out traveling.
Though I'm also very curious of Sea Summit Pocket Towels, they seem to take even less space.
Besides sorting dirty laundry, I've also started to sort travel photos. I haven't decided yet what my next post will be about – I really have a lot of post material now!
Lifecruiser ♥ Travel