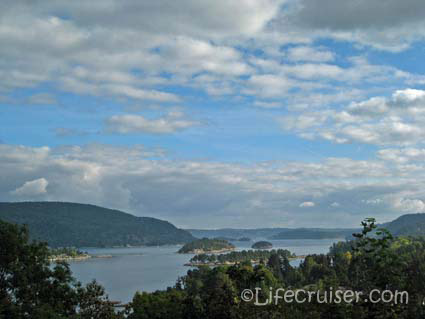 Wordless Wednesday

Oslofjorden is a very beautiful bay in the south east of Norway, which we saw in our Norway trip, both on the way to visit Kari and then after that TorAa and Anna.
They have this gorgeous view every day from their summer house. Lucky them!
According to Wikipedia:

"A fjord is a long, narrow inlet with steep sides, created in a valley carved by glacial activity.

In spite of its name, the Oslofjord is not, geologically speaking, a fjord. In historical times, it was known by the current name of the region, Viken (the bay); it is unclear when (and for what reason) the body of water acquired its current name."
It's about 100 km long, stretching from the Skagerrak in the south, to the capital city Oslo in the north and is one of the most densely populated areas of Norway.
There are many activities (sightseeing, fishing, diving and guided tours to different attractions) in Oslofjorden, which you can find at Visit Oslo's website if you're going there

.
Lifecruiser ♥ Oslofjorden