There is one thing that I haven't seen many travelers writing about: toilets we meet during our trips. Perhaps because it's still a bit unmentionable, which is silly, since we're all having the same needs - unless you're a princess…
The idea for this post started when I a long time ago read about a public toilet in Munich that has been transformed to an art museum! I'm not at all surprised that it attracted hundreds of visitors already the first days!
"He said that a toilet was a great place for artistic expression because art is a form of relief in the same way that going to the toilet is".
My experience of German toilets are generally very good, the ones I've been to have been very clean and often very hyper modern - much more modern than in Sweden.
I remember experiencing my first "touch screen toilet" at a train station in Germany - both the door and the flush. I was afraid to not getting out afterward since there were no door handle!
I maybe weird, but I've find it rather interesting to see how different the toilets are in different countries and even sometimes within the same country. Everything from a hole in the floor to luxury toilets with staff that expects a tip.
This photo below is taken in the Gents somewhere in Scotland - not by me I swear - butt by Mr Lifecruiser who obviously found the idea of a threesome urinal with one shorter for midgets very interesting….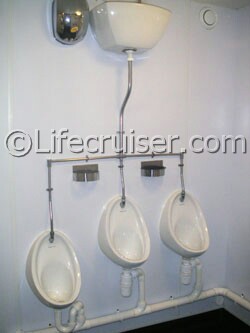 Oh, and once in a pub in Stockholm there were "double duty" - 2 toilet chairs - in the same ladies room and no mirror - how smart wasn't that? Girls tend to go at the same time and taking their time in front of the mirror!
There have also been a big variety in the way to flush the toilet, buttons on the floor, wall toilet or wall, strings to pull or touch screens, infra light and so on.
Have I told you before that on our 4620 kilometers trip by car from Sweden to Spain, we went through the whole France without me going on the toilet? It's true - I didn't found any toilet along the road that I could stand!
I do hope I never need to be in such an emergency again…
I would have been very grateful for one of those portable toilets, portable urinals, urinal bags or Cardboard camping toilets…
OR the Portable toilet which gives new meaning to "going in the car"? The toilet comes with a curtain to conceal users and a plastic bag to collect the waste.
"The commode will come in handy during major disasters such as earthquakes or when you are caught in a traffic jam," a company official told reporters, according to Kyodo News.
The product is small enough to fit inside a suitcase, the company said!!! Very handy, don't you think? *giggles*
Of course comparing to earthquake areas or very rural facilities, we shouldn't complain at all, we should be very happy that there are toilets at all…. or toilet paper, soap and water…
How about getting this Japanese portable toilet butt-spray with you on your next trip?
I would have loved to experience one of these Top 10 weirdest toilets instead: MP3 Toilet, Aquarium toilet, Waterless Toilet, Public Semi-Transparent Toilet, Portable Toilet, Dagobert Throne Toilet, Hands-Free Toilet, Incinerating Toilet, Massaging Toilet, Disappearing Urinal (in the ground).
BTW, have you seen the Campus Bathrooms Database? They have a hilarious statement of: "We're #1 for your #2″.
Of course, there are more serious subjects of toilets, like the Worldtoilet Organization, a global non- profit organization committed to improving toilet and sanitation conditions worldwide. Kudos to them!
Actually it even was the World Toilet Day the 19th of November if you happened to missed it…
There are also highly useful sources like The Bathroom Diaries - where you can search among over 12000 public bathrooms in more than 100 countries.
Have you seen any weird toilets on your trips? Tell us in the comments or leave a link to your blog post about it and we'll come over and read about it.
Lifecruiser ♥ Travel Toilets
PS. Have some fun with: Yahoo Search of Weird Toilets Images