The French World Heritage Site of Avignon did show us this architecturally wonder of the Gothic Papal Palace in the mid of Avignon charming little town. We came just in time to catch the enormous palace before the sunset, on a road trip to explore Provence further.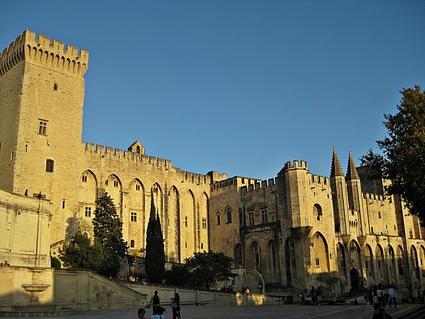 The Palace of the Popes was built 1335–1364 on a natural spur of rock and is located in Avignon historic center surrounded by ancient preserved ramparts.
We were naturally impressed by this big tourist attraction and tried to take photos in all kind of angles, but it was difficult…
We were too hungry, so we went for dinner instead!
©Lifecruiser Love Avignon
Some other Provence related posts by Lifecruiser:
French Riviera One Way
French Riviera Beach Peace
French Riviera Portal Wall
French Riviera Photo: See Tree – that is not there
Travel Photo: Monaco Yachts
French Riviera Boat Fleet Meet
Bandol Provencale Market