Declared World Heritage in 1984, Iguazu National Park covers about 67.000 hectares of subtropical rain forest, but the most popular attraction there are the gorgeous Iguazu waterfalls. A truly unbeatable and must attraction to see for any traveler.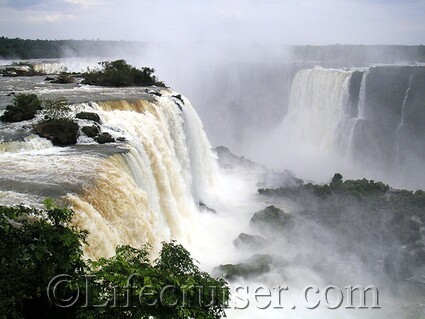 Cataratas del Iguazu in Iguazu National Park, from the Brazil side, South America. Photo taken in the middle of November 2005.
It is really difficult to describe that overwhelming feeling when you watch all that water falling! So enormously powerful and so beautiful that there is absolutely no word for it!
What a sound! Everywhere is the powerful sound of the pounding water cascades! Incredible! No wonder that the most powerful fall is called Gargata del Diablo – The Devil's Throat.
The waterfalls are situated on the border of Brazil and Argentina and has 275 waterfalls (!) in an 3 km long half moon. At one point a person can stand and be surrounded by 260 degrees of waterfalls! All the waterfalls are in Argentine territory and reach an average height of 40 and 80 meters.
Iguazu falls were discovered by the Spaniards in 1541. I wish I had been with them, what a discovery – it must be the worlds most beautiful waterfalls and certainly beats the Niagara falls thousands times!!!
We were so impressed of the arrangements around the falls, very well done. Everywhere there were bridges and walking paths so that we could come extremely close to the falls.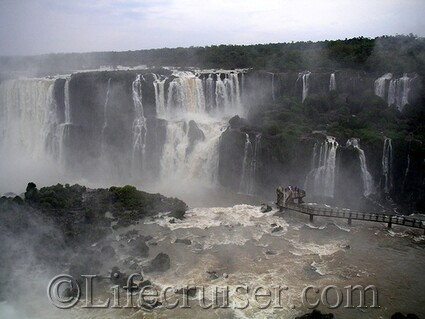 At some places we were standing on the very edge of the fall looking down, almost with a bit of vertigo from the stunning heights. Even though we both are afraid of heights, we found this very exciting and totally forgot about our fear.
Our blogger friend Tor did enjoy Iguazu falls just as much as we did, but I tell you: no one can help falling in love with Iguazu falls!
Oh, and do NOT miss the fabulous opportunity to get showered by the three musketeers (falls name) by going there with the speedboats with 2×100 horse power engines!
We did and I remember my clothes getting soaking wet – and transparent! Ooops… We also have a wet kiss memory from one of the vantage points!
Besides the falls there are also a lot of animals to discover around the area. The most colorful might be the free Toucan birds around the falls. There are also a special bird park, Parque des Aves, to visit if wanting to learn about the different species.
Plus there is a special dance show in the evening, so do stay in the area for several days and see the falls from both the Brazil and the Argentina side!
Make sure though that you get the right stamps in your passport when going over the borders – we did not and got a very suspicious penalty later on in Paraguay, but that is another story…
Here you can watch Lifecruiser Flickr photo slidehow of Iguazu Falls, since they are best seen in bigger format!
Lifecruiser ♥ Iguazu Falls