There is one thing that travelers either not talking about at all – or constantly exchanging experiences and stories about: the subject of toilet facilities when traveling. All the different and sometimes very crazy varieties of bathrooms interiors and functions or not functions.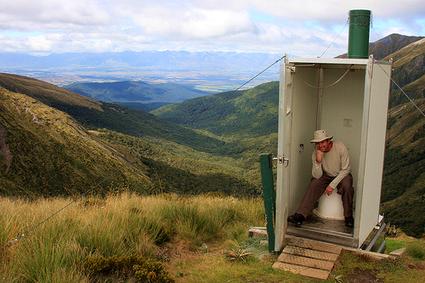 Emergency Stop on the Kepler Trek in NZ by
RobB7
This one above is another one, which we have seen some similar ones at different places and always up in the mountains. This one though is "secured" with wires if you look closer, that is supposed to keep it from falling over the edge…
Just think about the feeling when sitting in there and suddenly falling backwards with your pants down… The ultimate nightmare! Ha ha!
©Lifecruiser Love Toilets Travel Photos
Travel Toilet-related posts by Lifecruiser:
World Wide Weird Travel Toilets
Travel Photo: Mexican Toilet Sign in Spain
Travel Photo: Ingmar Bergmans Septic Tank