There are a jungle of online travel sites to find late holiday deals from, so it is easy to get stuck in an undecidable mood, not being able to sort them out. We will give a few tips of where we find them and how.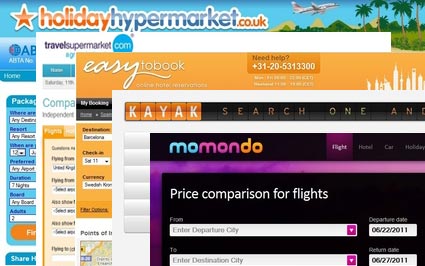 First of all, there are travel agency sites and there are comparisons sites. We use comparisons sites (like momondo, travelsupermarket or similar) as our first search tools instead of going to each of every travel site separately and search.
When we find something that look interesting to us, we check the source travel site directly too. If they have a late deal or last minute choice on their site we start checking their last minute listings (as earliest 8 weeks before departure and forward).
Sometimes you get more correct answers directly on the source site which could save you some search time too.
Some of the comparisons sites also has a notification service where you can set which destinations you are interested in and get email with interesting offers. We have used kayak.com searching for flights before and lots of travel agencies notification services.
When it comes to finding late hotel deals, we have often just Compare hotels at the hotel booking sites for hotels and dates and compared the prices for their late offers. If you are very late: check directly with the hotel!
Lately we have been staying in hostels rather than hotels since their standard has become so great. You can find late deals in the same way as with the hotels: on the hostel booking sites like hihostels, local hostel chains or via the hostel itself.
There are other travel sites that has a lot of great package offers (holidayhypermarket.co.uk, travelsupermarket, thomson, lastminute or similar) that also is worth checking out for your wished destination.
If you are willing to spend some time in phone: make calls to different travel agencies and ask them for late holiday deals. They usually have something to offer that might not even be on their online site!
Register a special email address you can use for signing up for different email newsletters and notifications from travel sites to get special offers sent out to you. This way you can look at them only when you're interested and not have your normal address bothered with those.
Another more modern method is to ask all your friends or followers in social networks like Twitter, Facebook or in forums if they know of any good deals. Work like a charm sometimes!
If you want to go on excursions at your travel destination: wait until you get there to book (if it's not included in a great package deal), it's easier to find all available options when there.
Ask the hotel staff if they know any good deals, but don't just take their word for it: always ask around & compare!
Type in Where to find late holiday deals? at Google.com and you will get even more sites to check up than you expected!
We have found our best budget flights with Ryanair, our "most worth it stay" (both cheap & luxury) at Hotel Vanity Golf, Alcudia and best package with excursions at Iceland – so far!
Where and how have you found your best travel deals…?
Lifecruiser ♥ Holiday Deals