Wednesday the 24th of June, we got a taste of Spain right in the heart of Stockholm City, in Kungsträdgården. The Spanish Tourist Office in Sweden and the Comunitat Valencia offered us free Paella – and we couldn't resist that of course!
So despite the fact that we were very tired from being out all day yesterday, we went into the city to meet up with my sister Susan. The weather was gorgeous, so we were not only hoping to get some Paella, but also enjoy the summer weather.
The rice dish "Arroz a Banda" (a fish paella) ingredients are: olive oil, swordfish, octopus, saffron, garlic, parsley, yellow onion, paprika powder, bay leaf, tomato puree, Mediterranean rice, turmeric, water, salt.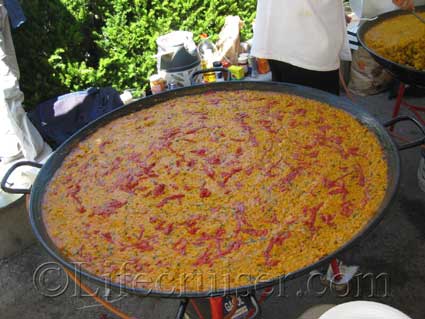 I think the paella were done by www.esmia.se, or at least the products were from there. Spanish deli in Sweden – not a bad business idea actually. We Swedes are extremely interested in all kinds of food!
I really loved their sign they had put up at their tent: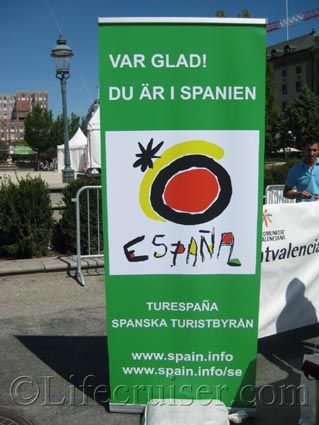 The sign says: "Be happy! You are in Spain!" Need I tell how happy we were? *giggles*
Below you can see a few photos we did take there.
So what did we do after that delicious lunch? Were there anything else going on in Stockholm this particular day?
Stay tuned and you'll find out what in our next post coming up as soon as I've sorted the photos…
Lifecruiser ♥ Spain