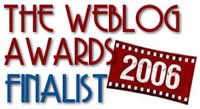 Vote here every day!
Woohaaa! Pinch me some one (not THERE *giggles*) so I can believe it's true! Lifecruiser is a finalist in the 2006 Weblog Awards Category Best Diarist!
Actually I'm laughing my butt off right now, because the similarity to: Best Diarreahist just hit me! *ROFLMAO* Especially since it do fit in very well, in several ways… [inserted censorship]
Let's just say, that I'm not quite well for the moment

Seriously, I feel like I've already got an award, just to be a finalist. Of nearly 4,500 nominations, for 45 categories with about 10 finalist in each, Lifecruiser is choosen… It's an incredible honor.
And what a competition, both among the nominees AND the finalists!!! *whistles like a Scottish bagpipe*
Go over there and have a look around even if you don't vote for any one, it's worth the time!
The voting is scheduled to start December 7.
My advice? Vote with your ♥