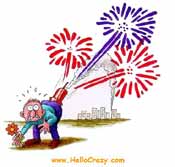 Tonight is Walpurgis Night (Valborgsmässoafton). It's when the spring season is welcomed by us Swedes.
We celebrate it with bonfires, choir singing about the spring and fireworks. The festivities goes on over the whole country.
Though moder nature very often has surprises for us this day with really cold weather and it has even been snowing on Walpurgis for many years…
It's like King Bore (the winter) must have a last blast before he goes to rest

But not this year, so it's a good start of the spring and summer.
Happy Walpurgis!
* F I R E W O R K S B A N G S *