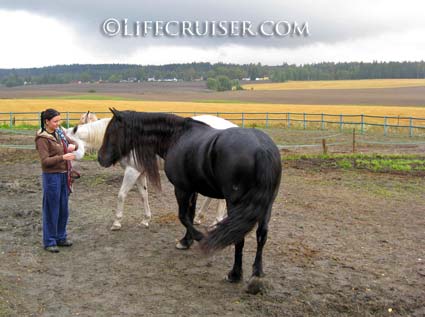 On our trip to Norway, we also visited our dear friend Kari, who lives in a farm. We know her from our summer paradise island Fårö, where we meet every summer.
Kari is such a sweet, positive and energetic young woman and we loved to visit her.
At the farm she runs a stable with horses and among them are her own horse, which is a very nice and beautiful horse. They're really matching each other well!
Kari also has a foal, but in another stable where she is taken proper care of. That's because she has plans to use it as a trotter in races, so it's better for the education of the horse over there.
She has help from the other horse owners to take care of the horses, but there is still the responsibility and lot of work every day.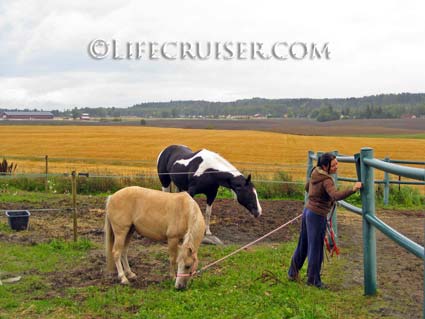 Here she is taking 3 horses at the same time into the stable. She is doing well, the hardworking girl!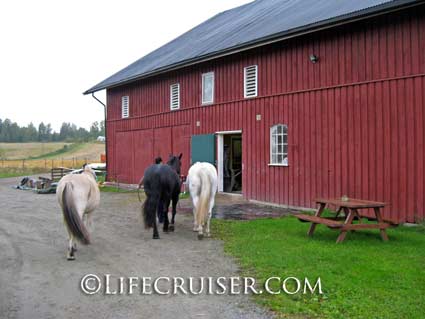 When I was young, growing up in a suburb to Stockholm City, I always dreamed about living in a farm in the countryside with horses. I had this dream until I were a bit over 35, then I realized that I didn't have the body for it. Body? Yes, a healthy body is sure needed.
Anyway, it was such a wonderful sight with the horses there, so I sure can understand that she is happy there, who wouldn't be?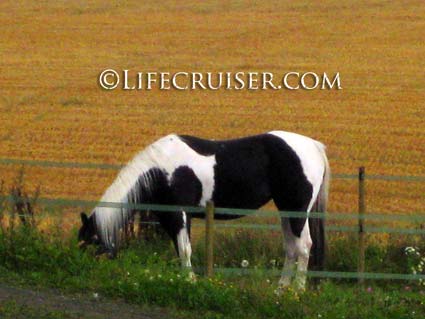 The right one of those two below, are of a very special Norwegian horse breed you might have heard of before, the Norwegian Fjord horse. Very strong and hardy horses considering they aren't particularly big.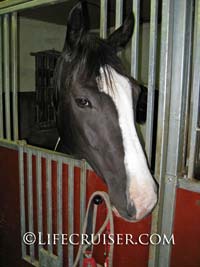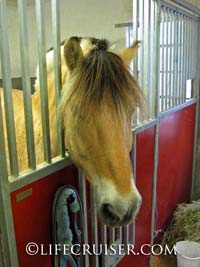 When we arrived at Kari's farm, we of course had some Champagne with us as a gift, but I must admit that we helped here pretty well to drink it. We started already in the afternoon… *giggles*
Kari made some dinner for us, which was really perfect, one of my favorites: Tacos!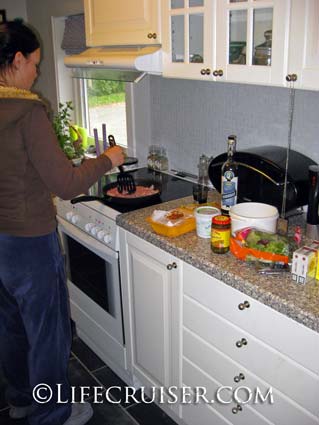 …and it tasted sooo good that we all three of us ate too much! We were like stuffed Boa Constrictor's after that giant meal. *giggles*
One of her sweet cats did join us in our relaxing time on the couch.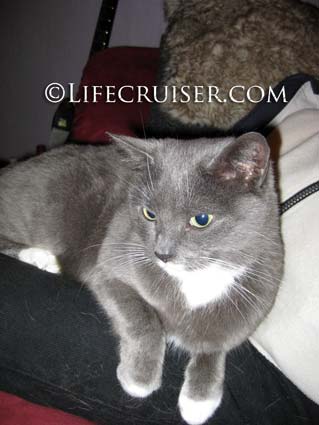 Otherwise they were having it so warm and cozy on the heated bathroom floor!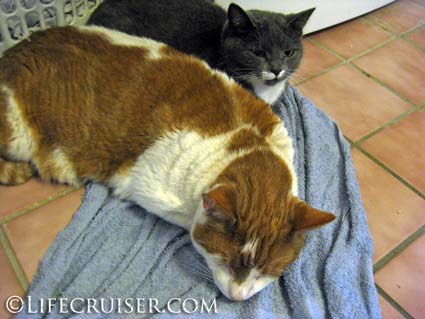 We had such a nice time together, despite the fact that we were tired after our trip there and Kari had a hard work week that just ended.
It might have been our luck that we were that tired, because we slept on a air mattress on the floor and after half the night, much of the air went out of it! Neither one of us had the energy to do something about it, so we had to blame ourselves for not sleeping that well.
In fact this was what we all looked like after that evening…. *giggles*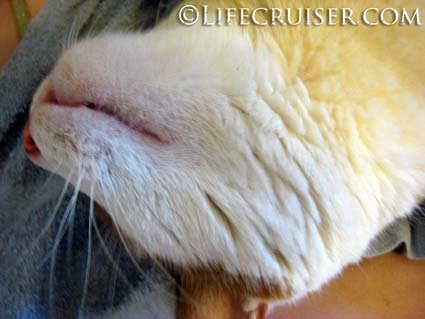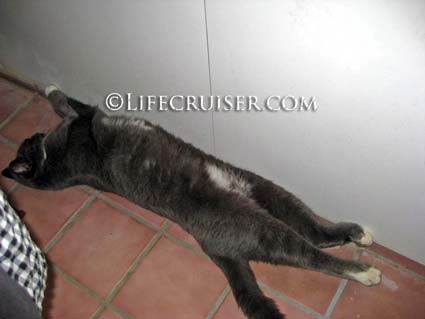 Kari is here in Stockholm now, visiting Jane, Mr Lifecruiser's daughter and we're going to meet up with them to have some serious sightseeing in Stockholm together Saturday – including having some beers in the evening.
Cheers my dears…
Lifecruiser ♥ Visiting friends