With the thought of that Marseille traditional soaps have been made for about 600 years, I couldn't resist taking a photo of those really wonderful vintage soap posters I found in a French medieval village.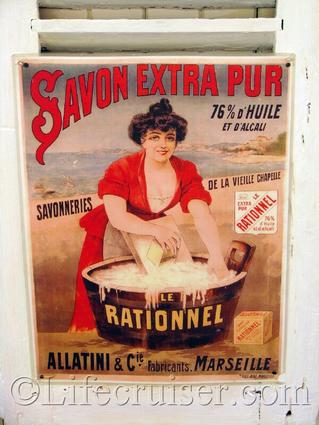 The traditional Marseille soap is made from vegetable oils and it grew so popular that it in 1913 the production had reached 180,000 tons (!) and already in 1924 there were 132 soapmaking companies in the Marseille and Salon areas.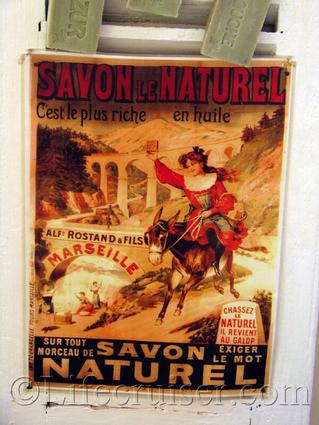 Traditionally, the soap is made by mixing sea water from the Mediterranean Sea, olive oil, and the alkaline chemicals soda ash (sodium carbonate) and lye (sodium hydroxide) together in a large cauldron (usually making about 8 tons). This mixture is then heated for several days, stirred constantly.

The mixture is then allowed to sit, and once ready, it is poured into the mould, and allowed to set slightly. Whilst still soft, it is cut into bars and stamped, and left to completely harden. The whole process can take up to a month from the start before the soap is ready to use.

Source: Wikipedia
You can read more about the traditional Marseille soap history at Marseille Tourisme.
Today there are only a few remaining soap factories around Marseille and some soaps has palm oil instead of olive oil, but still very nice soaps so it's no surprise that this is one of the things the many tourists are buying there.
I would find it very interesting to take a traditionally Marseille made soap and a modern one from our stores to a lab to be able to really compare the content…
Lifecruiser ♥ Vintage Marseille Posters

Earlier posts in this serie:
French beach leach
Bloggers toast in France
Bloggers finally meet in France after three years of blogging
French blogger host lost
Start Fart of France Trip
Marseille Air Lair Stare
Pastis in Provence Southern France
Photographer beholder but not older
Connect Hotel Skavsta Airport