Another Viking Travel Postcard spotted on a roadtrip to Sigtuna, Sweden. The runic inscription of the stone says: "Sven had the stone erected in memory of… his father and Fröydis in memory of Ulv, her husband. God help his soul".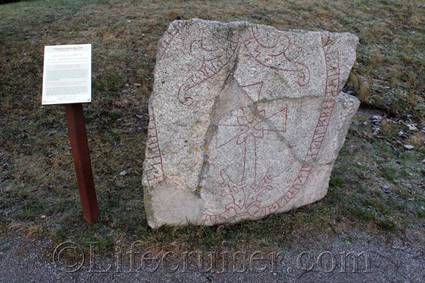 The names Sven and Ulv are common in the runic inscriptions but Frödis has only one known bearer from the Viking age and that is the daughter of Erik the red who lived in Vinland for a time.

The fragments of this stone has been found at two different places in Sigtuna. As the runes are damaged in important places the name of the father, in whose memory the stone was erected, is not readable any more.
I love to read those ancient travel postcards – I just wish they could tell us more than they usually do. Wouldn't it be thrilling to read a more detailed one from a real Viking…?
©Lifecruiser Love Old Carvings
Other Sigtuna ruins related posts of Lifecruiser:
Travel Photo: St Lars Church ruin, Sigtuna
Viking Travel Postcard: Rune Stone 385
Travel Photo: St Olofs Church Ruin, Sigtuna