The most heartwarming day of the year is here: Valentine. We wish you all a day filled with romantic, heartwarming experiences wherever in the world you are. Whether you are in a very romantic place with a beloved one or not, it's what you make it to that counts.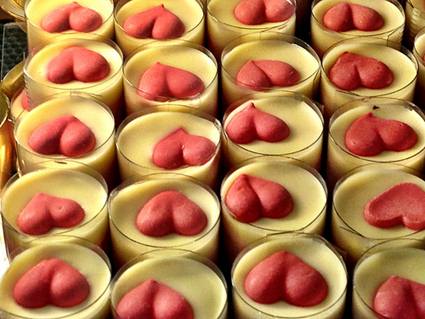 These heartly filled cakes would be perfect as one of the Valentine gifts, even if they are displayed upsidedown here. They do looks like bum's, don't they? Hm…
If you wonder over the words "Bums Mums" they actually also are Swedish words meaning something like "Right Away Yummy".
Go out there and create your own romance now lovely peeps and have yourself the Happiest Valentine Day ever!
©Lifecruiser Love Valentine
Other Valentine related posts at Lifecruiser:
Surprise Her This Year Like Never Before
Love messages all over
Happy Valentine Life Kissers
Affordable Romantic Valentine Trips Tips
Tenereffic Romantic Sunset
With Love on Valentine Day