The very first tourist attraction that was on our list at our Europe trip in August this year, was the most creative apartment/office building in Sweden when it comes to the art and science of architecture, called the Turning Torso. It's situated in the west of the harbor in Malmö city, in the south of Sweden and we were passing it on our way down in Europe.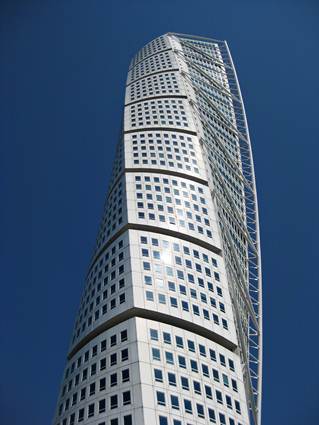 The Turning Torso is, with it's 190 meters (623 feet) and 54 stories, the tallest building in Sweden when created, but also one of the most spectacular with it's crazy 90 degrees twisting of the 9 cubes in the tower from top to bottom and irregular pentagonal shaped floors rotating around the vertical core.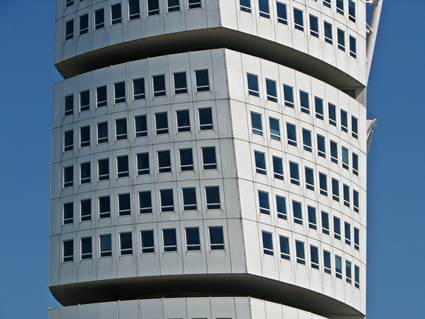 A true artwork in structural expressionism by Santiago Calatrava (follow the link to read more about this fantastic engineers work!) from 2005, inspired by his own sculpture called the Turning Torso which the Swedish contractor saw and asked him to copy his design as a building.
Featured in Discovery channel's TV program, Extreme Engineering – always so incredible fascinating – where they did show how a floor of this twisted tower was constructed. It's also built with sustainability and an environmentally friendly way of life in mind and the building is supplied only with locally produced and renewable energy.
Santiago Calatrava (from Valencia in Spain) is considered to be one of the worlds elite designers who has won gold medal's. A truly gifted structural engineer with an unusually artistic approach in his creations! I'm totally blown-away by several of his other architectural wonders too.
He also contributed (but did not won) in the architectural competition for the Swedish Öresund Bridge in the nearby area, which we had to pass over to get from Sweden to Denmark on our next leg of Lifecruiser Europe trip…
©Lifecruiser Love Unusual Architecture