It's time for one of my honest unpaid travel site reviews again. This time it's Travelgrove.com I've been testing for a couple of days while I waited for my cold to go away.
Travelgrove is a travel search engine who can search all the major travel search engines on the travel market for you, to help you to compare several large travel providers at once to get the best fares.
I liked that I can make themed searches if having special interests, but what caught my eyes the most was their Fare Alert, which will let you specify a price limit and get notified when the price for your flight drops below your limit.
So how did I find them? I didn't, they found us and did a very flattering review of Lifecruiser Travel Blog on their blog which almost made me blush. So I thought I should return the favor, which they of course had hoped for, but still, this is my honest opinion.
My first impression of Travelgrove's site was a bit pale actually: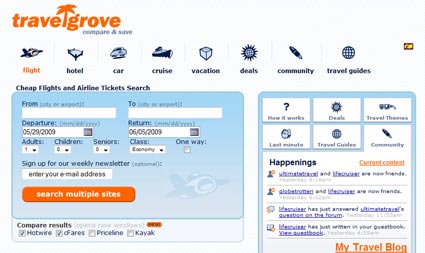 Then I read on Travelgrove's blog about a major design overhaul, which in my opinion will be a great lift for the whole Travelgrove Community.
…and it's just that word: Community, that made me get stuck further in their site. As always it's the people that makes it interesting: what they have written in the forum or in their travel journals, which photos they've uploaded, if they have any great travel tips or advices etc.
Travelgrove's forum seem to be much visited and there is some useful information, but as usual with all forum's I wish that people could participate more, to share more.
It also looks like they have plans of making it able for you to change the design of your profile page – that would be my priority if I were them…. We love to change our profiles!!!
If you scroll down to the bottom of their frontpage, you'll find links to their international sites: American, English, German, Italic, Spanish and French, so even if you're not that good in English you might find another of their sites suitable.
Another feature I liked very much, is that it's possible to link to another users photo gallery. Very useful when you've been traveling together with another member, so the photos can be displayed even there. A bit like in Facebook – which also can be connected to Travelgrove's map.
I really loved to see that they've teamed up with Hostelworld's budget tours, which I had no idea even existed.
Oh, and don't miss the feature to ask them a travel question on the first page.
I do find it quite refreshingly cocky of them to say:
"Don't take our confidence the wrong way, but we're willing to swallow our hats if you don't find the best deals with us "
So, why not try them out and see if you can get them to swallow their hats….? *giggles*
If you decide to register: don't forget to add Lifecruiser at Travelgrove.
Lifecruiser ♥ Travelgrove