For frequent travelers or family to them, there are tools helping you to track flights live, if they're delayed in either departure or landing and if certain flights are chronically late.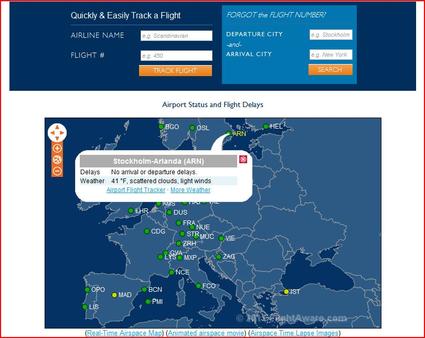 FlightAware Tracking Tool
One very handy tool to do that with is the FlightAware, where you can search by flight number and city and get the activity log of that particular flight and that way also be able to figure out if that flight use to be on schedule. FlightAware checks many other official sources for information.
It can be wise to check out if the flight use to be in time most of the time at least before you buy your flight ticket, to prevent that you'll miss a connecting flight – or just loosing your important holiday time.
As a guest user you get hold of 14 days historical flight data, but if you register you get 4 months historical flight data and 5 free flight alerts by email or mobile.
A cool feature of FlightAware is that if you want to see a 3D map you can export the flight track to view it in Google Earth. On the Status row in the tracking information, click on the Google Earth button and FlightAware will send you a Google Earth KML file to view the flight.
You can even let the The FlightAware application (facebook.com/FlightAware) configure flight alerts that will be posted to your Facebook wall, notifying your friends and allowing them to track your flight's status.
Out on the road you will find very useful mobile versions of FlightAware at flightaware.com/mobile/.
Oh, and if you're really interested in airplanes, don't miss to check out their aviation photo page at flightaware.com/photos/.
There are also other flight tracker site alternatives to check out if you want: flightview, flightarrivals, flightstats or flightexplorer.com.
Do you use any flight tracking tool? Tell us about your experience!
©Lifecruiser Love Useful Travel Tools

Other Flight Tools related post by Lifecruiser: