Cowboy On The Llama Time Trail.
"SIXTEEN years ago – that is to say, in the year 1836 – a huge pile of dirty-looking sacks, filled with some fibrous material which bore a strong resemblance to superannuated horse-hair, or frowsy elongated wool, or anything else unpleasant and unattractive, were landed at Liverpool. When those queer looking bales had first arrived, or by what vessel brought, or for what purpose intended, the very oldest warehouseman in the Liverpool Docks couldn't say. There had been once a rumour, a mere warehouseman's whisper, that the bales had been shipped from South America on spec., and consigned to the agency of C. W. and F. Foozle and Co. But even this seemed to have been forgotten; and it was agreed on all hands that the three hundred and odd sacks of nondescript hair-wool were a perfect nuisance. The rats appeared to be the only parties who at all approved of the importation, and to them it was the very finest investment for capital that had been known in Liverpool since their first ancestors had migrated thither."
Charles Dickens
(Household Words: The Great Yorkshire Llama.)
Cry God for Harry, England, and Saint George!
Standing looking at St George's Hall in Bradford you could be excused for not taking due notice. It's impressive enough, Neoclassical style in local ashlar sandstone but somewhat overshadowed by the elaborate Venetian style of the the Town Hall opposite which steals its thunder. St George's was opened in 1853 by Queen Victoria and is still in use attracting many of the world's top performers throughout it's history; the oldest concert hall in Britain, third oldest in the whole of Europe. Charles Dickens appeared here in December 1854 and gave his first ever reading of "Bleak House." When we mention Dickens we think of London but, in truth he drew inspiration elsewhere, particularly Northern England. I fancy sharing his company today; if only in the imagination and a leap of time travel. Scrooge's London counting house in A Christmas Carol was inspired by a location in Malton, North Yorkshire. Perhaps I can tempt the master wordsmith to add adjectives, metaphors, similes, dialect and 'substandard' speech with a dash of sentimentality to a Bradford location?
Let's jump time to Dickens' Bradford…
"Now and then you get a mile or so of fresh sweet air as you are whisked along in the train; but only as a short relief from tall, dark, mysterious-looking buildings, like county jails or model prisons, with a curling black  stream of smoke above, and another gurgling black stream of water below, which would induce one to believe the place to be a blacking manufactory, and that they were then busy washing out the old bottles. You  whistle past it, and smell more great-coats and trousers, and then you come to some more green fields, rattle over a canal, wind round a hill, plunge under the high road, whisk round a corner, and there you are – in the  very heart of damp wearing-apparel – in the town of Bradford."
Charles Dickens
(Household Words: The Great Yorkshire Llama.)
During the textile and industrial revolution in the nineteenth century Bradford's population mushroomed. It gained the reputation of being the most polluted town in England as over 200 factory chimneys produced black, sulphorous smoke that filled the hole in which Bradford sits. Frequent outbreaks of cholera and typhoid due to none-existent sanitation resulted in  only 30% of children born to textile workers reaching the age of fifteen and the average life expectancy was just 18 years. To have vision at all in this hell hole on earth was a miracle…
But one man managed it!
A Walk With Charles Dickens.
Although it is dark as we round the corner of the Town Hall we instantly know that we walk in 2013. The six acres of City Park lie before us: the largest man-made water feature in any UK city. The 30m high water spout climbs from the center of the 4,000 sq. m mirror pool and laser lighting plays with water. It's impressive and sparkly but not worthy of the attention of Mr Dickens I think. Our destination is about half a mile away in Goitside (the very name has Dickensian tone.) I want my companion to see the mill that I used to occupy, or more precisely the alley at the back of the property; Silsbridge Lane. The clock slips back to 1844 as we entered the alleyway next to Thompson's Mill. A horse drawn carriage rattled over the Victorian cobbles and pulled up next to the warehouse door.  On board were two alpaca fleeces by special delivery from Queen Victoria for the attention of a Bradford manufacturer. A plain business-looking young man, with an intelligent face and a quiet, reserved manner in his mid-thirties accepted the royal consignment. Then, seeing my companion, this future Mayor of Bradford approached us and extended a hand of welcome.
"Do I know you Sir?" he inquired of my companion.
"Not yet, but delighted I'm sure,"  replied Dickens
"One day – we won't care what day it was, or even what week, or month, though things of far less national importance have been chronicled to the very half minute—one day, a plain business-looking young man, with an intelligent face and a quiet, reserved manner, was walking alone through those same warehouses at Liverpool, when his eye fell upon some of the superannuated horse-hair projecting from one of the ugly dirty bales; some lady rat, more delicate than her neighbours, had found it rather coarser than usual, and had persuaded her lord and master to eject the portion from her resting-place. Our friend took it up, looked at it, felt it, smelt it, rubbed it, pulled it about; in fact, he did all but taste it, and he would have done that if it had suited his purpose, for he was "Yorkshire." Having held it up to the light, and held it away from the light, and held it in all sorts of positions, and done all sorts of cruelties to it, as though it had been his most deadly enemy and he was feeling quite vindictive; he placed a handful or two in his pocket and walked calmly away, evidently intending to put the stuff to some excruciating private tortures at home."
Charles Dickens
(Household Words: The Great Yorkshire Llama.)
114 Miles To Liverpool.
Titus remained politeness personified but it was apparent that he wanted to "be about" the newly arrived  regal command. So we left him and his textile genius at Thompson's Mill and traveled the few miles and many decades to Saltaire in the present day. This World Heritage UNESCO Site was the vision of the same quite gentleman that we had just met in the narrow cobbled, smog filled back street. Sir Titus Salt; great industrialist, one time Mayor of Bradford was also a humanitarian. He was shrewd and realized that looking after his workforce was good for business; taking his workers from the Bradford squalor to the Yorkshire fresh air at Malham on a works outing. He bought a tract of land and commissioned architects to design a mill and village to his exact specifications alongside the canal between Leeds and Liverpool where he had bought those very same bales of alpaca wool. Housing for the workers had fresh water, sanitation and a gas supply. The new village had shops,  a hospital, school, library, park, church, public baths and alms houses for the poor and elderly. Consideration was given to health and safety and the working day limited to 10 hours. One can only imagine what this would mean to his workforce and how they would regard him. He saw the task finished just before he died at the age of 73 years. After a funeral in Bradford (100,000 people paid their respects) he was buried in the mausoleum at his own Saltaire Congregational Church.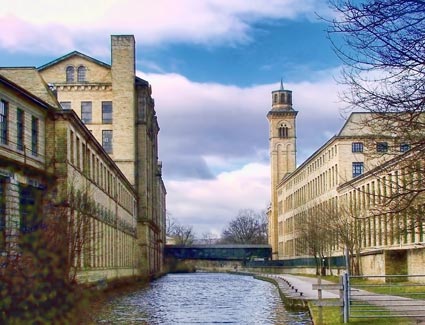 ©Charimage 2013
Victorian Saltaire.
Dickens wasn't interested in the David Hockney Gallery that has replaced the 1200 looms attended by 3000 workers producing 18 miles of cloth each day; or the  collections of books, furniture, jewelry or clothing. The modern day Saltaire is picturesque and charming with tourist appeal but the thrum of industry and purpose is somehow lost. We took a stroll around Robert's Park where willow strikes leather at the side of the River Aire under the watchful eye of Sir Titus' statue. I asked Dickens if he had missed a good story here; a tale that would sit well on the shelf next to Bleak House, Great Expectations, David Copperfield? The Great Yorkshire Llama should have been indulged and deserved novel status. Alas my companion got diverted into touring and giving recitals rather than trusting his pen to making a living.
©Charimage 2013
***
"This vast building stands upon six acres of ground, running east and west, and is nearly six hundred feet in length, and eighty in height: the several floors and sheds will comprise a superficial extent of nearly fifty-six thousand feet.

Such is, and such will be, Saltaire; and the whole of this, it must be borne in mind, is created by the genius and industry of one quiet man of business. All these vast machines, these huge piles of works, these myriads of working instruments, this wonderful whole, spring from that one source—those three hundred and odd dirty bales of frowsy South American stuff."

Charles Dickens
(Household Words: The Great Yorkshire Llama.)
Other Cowboy Trails Posts at Lifecruiser:
Sea Fever
God's own Country
Rivers of Life
I Want to be Alone
Why Do We Travel?