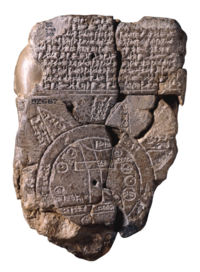 It all started with The Imago Mundi of 6th century BC Babylonia, the worlds oldest known map – made of clay. I found it in Wikipedia Ancient World Maps.
When traveling we often take it for granted to have access to maps as a guide. Though I've never found a map filling all my needs. I guess I never will, the world is just too big!
Luckily I don't have to carry around one made of clay or stone… *giggles*
Then I got curious of what map sites there is and as usual in the internet, you get overwhelmed with all the information available. Not to mention to get stuck there. Now you know why I didn't visit you yesterday – I was all around the world!
The biggest online sites to help you find your way around that I found was MapQuest and Maporama, except from Google Maps and Yahoo! Maps, which I guess every one already know of.
However, this got me to look at other maps too – and look what I found! This is only some of them, the ones I liked the most or found unusual or interesting in some way or other.
Then my absolute favorite – I fell in love with this one. Yes, it's possible, at least for me. I think it's beautiful. Of course I have to think that since it's an ancient sea map AND of the Nordic countries, the old Scandinavia.
Don't miss to click on it to zoom in on this map to see the drawings properly!!!!
From Wikipedia: The Carta Marina (Latin: map of the sea or sea map) is the earliest map of the Nordic countries that gives details and placenames. In production for 12 years, the first copies were printed in 1539 in Venice. The map was printed from nine 55×40 cm woodcut blocks to produce a document that is 1.70 m tall by 1.25 m wide.
Think about it: how was it back then? This was in the year of 1539, just TRY to imagine that… We're definitely spoiled today being able to travel around the world so fast, so easy!
Remember the last time I got stuck like this? That was with Google Earth as a travel tool.
So, where do you think that we shall travel? *giggles*
Captain ♥Maps Lifecruiser