One of the most common tourist activities when out traveling is to go shopping. It's always a pleasure to have a look around for "different from home" clothes in another country. This sign I found in a dressing room recently says it all…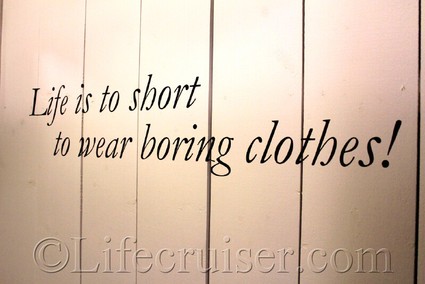 Right now I've been looking for some dresses, but found them through an internet site instead. 2 dresses (but the same one in 2 different colors) and one tank top. Lets keep our fingers crossed that there will not be any size fuss or quality flaws….
Have you been travel shopping? Or went to another country just to do some shopping? Tell us all about it!
©Lifecruiser Love Travel Shopping
Other travel shopping related posts by Lifecruiser:
Stockholm Photo: Window Shopping Fashion
Stockholm Photo: Versace Fashion Window
Funny Stockholm Design Chair
Stockholm Photo: Italian Ice Cream Top Shop
Travel Shopping Pattern
Travel Shopping Photo: Underwear Bear
Vienna Shop Windows Odd Mix
Vienna Delicious Budget Food