Cristo Redentor or Christ de Redeemer in Rio de Janeiro, Brazil, is the largets Art Deco statue in the world. Considering that it's weight is around 6-700 tonnes, placed 700 meter high up on the Corcovado mountain, it's an incredible work that has been done. No wonder that it's so well known all over the world, pictured in all kind of ways. Here in a wall poster found in Sweden recently.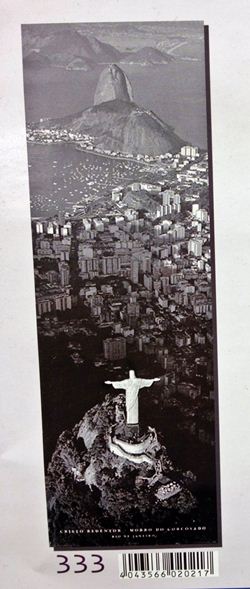 Inaugurated as early as in October 1931, it has been watching over Rio for over 82 years now. What not many might not know is that the monument partly was built by the old Swedish company Skånska Cement and the concrete in the foundation comes from the Limhamn in the town Malmö in the south of Sweden.
We were reminded about it now because yesterday evening we did meet Jane at the Stockholm Arlanda airport, coming home after being in Rio de Janeiro for around 6 months now, in good company with her lovely girlfriend Jennifer who is living there. I guess we will hear a lot of Rio from now on!
The Cristo Redentor has been pictured not only in peoples private photo albums, but also in many other media, newspapers, TV programs, movies. It's one of the most visited tourist attractions in Rio without doubt. You simply can't go to Rio without have been there, if not for the statue, so for the mosts gorgeous view.
I almost got the urge to go seeing Cristo Redentor once more (we were there in 2005), greated by the same big hug of his arms back then – the true symbol of faith and hapiness for the people. I guess it will be the closest we will get to heaven – except when being in each others arms…
©Lifecruiser Love Rio de Janeiro

Other posts by Lifecruiser where Brazil is mentioned:
Rio de Janeiro twice as fun
The Perfect birthday gift: a new suitcase for a trip
World Heritage: Iguazu Falls, South America
5 Tip Top Beaches of Lifecruiser
Stockholm Body Painting Contest 2008
PhotoHunt Flexible
Photohunt Practical Tactical
Photo Scavenger Hunt: Wild
Cut Memories
Photo Scavenger Hunt: Looking Up
A Wet Kiss Memory