When out on a travel photo shoot, you have to behave like you had an radar head, keeping your eyes open for anything and everything. Here I captured a couple of vacationers in a 4-wheeled cycle ride along a beach in Cannes, at the French Riviera.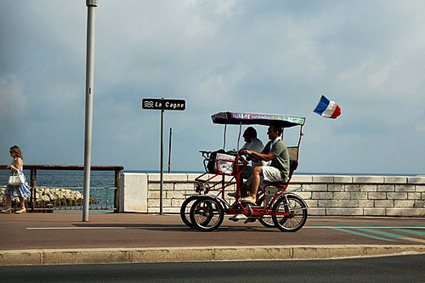 I like to get a picture of the country flag, so that was why I saw this 4-wheeled cycle, which is not at all a bad idea for both visitors or locals, feeling more secure than just an ordinary bicycle. Plus you get the benefit of being able to have a talk with each other (without having to shout your lungs outside in) and be able to take photos at the same time.
Going in a more relaxed pace, you can feel the seabreeze properly and don't miss as many details, giving more photo opportunities than if you were passing by too fast in either a car, bus or a motorcycle, yet getting forward faster than walking.
©Lifecruiser Love Seafronts
Other french riviera beach related posts at Lifecruiser:
French Riviera Beach Peace
French Riviera One Way
French Riviera Port View of Mr Lifecruiser himself
Isle of the Gaou, France
France: Bandol Beach Sunset