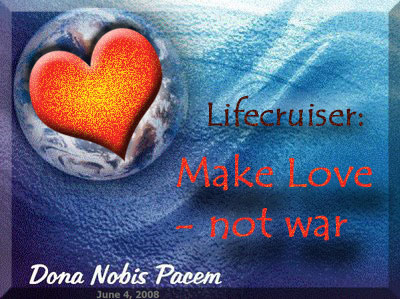 Join Blogblast for peace the 4th of June!
Click on my globe image above to get info.
One thing that is crucial when out traveling the world is peace. First of all your inner peace – which I mostly get just by being out exploring the world

– but also peace in the country you travel within.
It would have been so wonderful if we didn't have to think about such worries, just to explore the whole world unlimited, without any fears.
Things get very tough if there is a war – or if it breaks out while being there, so better check out the country before going there, just to make sure there are no disturbances.
Travel recommendations
Enjoy your safe travel or stay at home in peace. What ever you prefer. That is if you have peace in your home…
Which reminds me of an old saying:

"There is peace in the home where the husband is deaf and the wife is blind…."
Captain ♥Peace Lifecruiser