One of the worst thing that can happen to the traveler when out on outdoor sightseeing is when the weather becomes extremely bad. Especially when it's so foggy that you can't see a thing. We've experienced that a couple of times , as well as other travel failures…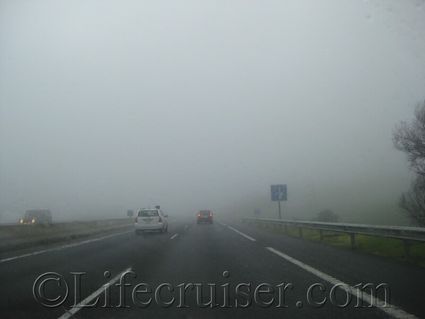 This travel photo above is from one of our days at Tenerife island in Spain when we had to give up sightseeing that day, luckily we had more days there. Another day we had fog all the way up on the road to the Teide volcano, but after just minutes after we arrived there, it cleared up around the peak and we succeeded to see it!
That was not the fact another time when we were on the most beautiful part of our bus tour in Southern Ireland and we got so severe fog that we literally could not see our hand in front of us… Yep, we totally missed one of Ireland's most spectacular areas – The Ring of Kerry – and the weather still was bad when arriving to the famous Cliffs of Moher.
Luckily, we had a very experienced bus driver that said: lets drive to a nearby lunch place and eat lunch and have a short walk around and then come back on this road and if we're lucky, the fog has disappeared by then. And it had, we could walk up the cliffs to admire the view.
When we should do sightseeing at the Tower in London, we also had severe fog – and rain, but that was not a complete surprise for us as London often can be…
Another very foggy place were when we were at the Niagara Falls – we could see them, but we had big problems taking any photos without destroying the cameras! We should have had waterproof camera cases. We did not have the same problem at all att the Iguazu Falls in South America at all.
The funny thing is: when we've traveled to places where we expect to meet bad weather, we have had great weather and when going to the opposite places, like beach vacations, we have had bad weather. Remember my bad weather curse?
That's why I always like to have plenty of time for sightseeing, to have several opportunities to come back to a sight. Fog can't stay around forever. Or can it?
©Lifecruiser Love Travel

Other travel related posts by Lifecruiser:
Our Ireland Trip
Costa Adeje Holiday Tips
Niagara Falls six years later
World Heritage Iguazu Falls, South America
Thursday Thirteen Travel Curse