Stretching for almost 26,000 kilometers, or just over 16,000 miles, Australia coastline is home to some of the world's most awe-inspiring beaches. Sharp rolling waves of crystal-blue water teaming with marine life washing over sugar-white sand provide plenty of opportunities for beachcombers, surfers, divers and sunbathers to explore while on holiday.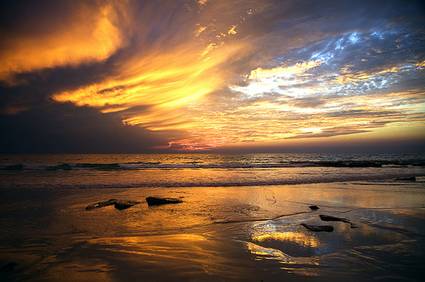 Cable Beach, Broome by
piesgardener
Cable Beach, Broome
With bathtub-warm water and waves suited perfectly for beginning surfers, Cable Beach is often said to be one of the most picturesque beaches in the world. Abnormally high costal tides sweep the 15-mile stretch of sand clean every day, making it seem as if no one has ever set foot on the sand.
Cape Tribulation Beach, Queensland
Set just above Cairns in Northern Queensland, Cape Tribulation Beach is just far enough off the beaten path to keep it a secret from most tourists. Somewhat wild and remote, here the beach stretches out along the edge of a forest that provides beachgoers a chance to commune with nature away from the crowds.
Whitehaven Beach, Whitsunday Islands
Tucked away from civilization on a 6-km long desolate island, Whitehaven Beach is as serene as a beach can be. Beachgoers should bring snacks, because once there they may never want to leave.
Wineglass Bay, Tasmania
Set in a secluded cove at the backside of Freycinet National Park, Wineglass Bay is free of crowds and commercialization. Accessible only by foot, Wineglass Bay can only be reached by a 40-minute hike from nearby Coles Bay.
Coral Bay, Ningaloo Reef
A perfect spot for snorkeling and SCUBA diving, the town of Ningaloo Reef overlooks the clear blue waters of Coral Bay. Teaming with marine life, and often called the "Mini Great Barrier Reef," the reef itself sets only a 10-minute boat ride offshore.
Bondi Beach, Sydney
A showcase for hardbodies, Bondi Beach attracts crowds of hottest bodies from around the world. Surfers, local sunbakers and visitors to Sydney all peacefully coexist on a short 1-km section of sand. Heed the lifeguards and the signs, as current can be treacherous.
Manly Beach, Sydney
Rollerblade tracks, fast-food vendors and surf shops permeate the sunny sands of Manly Beach. Set just offshore, ferries and Sydney's JetCat take beachgoers to and from Manly Beach throughout the day.
Sunshine Beach and Alexandria Bay, Noosa Head
Extending 15 km north from Perry Point, Sunshine Beach offers surfers excellent waves. Set in the protected waters of Noosa National Park, Sunshine Beach is easy to access, while just remote enough to keep the throngs away. Further north, Alexandria Bay is the spot for skinny dippers. Clothing optional with milky white sand, Alexandria Bay doesn't receive as much traffic as the larger beaches in the area. Not as popular as many Australian beach destinations, travelers will easily find accommodation in Noosa.
Byron Bay, Australia
A whaling town turned tourist mecca, Bryon Bay attracts a variety of personalities. Boasting nearly 30 km of unbroken beaches smattered with lighthouses, Byron Bay should be a stop on every beachgoers agenda.
Lifecruiser Love Australia's Beaches