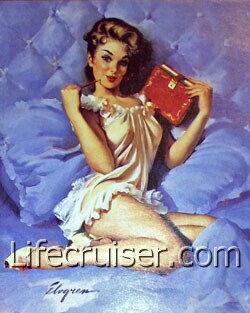 Gil Elvgren, 1962.
© BROWN & BIGELOW INC, ST. PAUL, MINNESOTA
DEAR DIARY: DAY 1
All packed for the cruise ship – all my sexiest dresses and make-up.
Really excited.

DEAR DIARY: DAY 2
Entire day at sea, beautiful and saw whales and dolphins. Met the Captain today – seems a very nice man.

DEAR DIARY: DAY 3
At the pool today. Also some shuffle boarding and hit golf balls off the deck. Captain invited me to join him at his table for dinner. Felt honored and had a wonderful time. He is very attractive and attentive.

DEAR DIARY: DAY 4
Won $800.00 in the ship's casino. Captain asked me to have dinner with him in his own cabin. Had a luxurious meal complete with caviar and champagne. He asked me to stay the night but I declined. Told him I could not be unfaithful to my husband.

DEAR DIARY: DAY 5
Pool again today, got sunburnt, and went inside to drink at piano bar for rest of day. Captain saw me, bought me several large drinks. Really is charming. Again asked me to visit his cabin for the night. Again I declined. He told me if I did not let him have his way with me he would sink the ship. I was shocked.

DEAR DIARY: DAY 6
Today I saved 1600 lives. Twice.
♥
Well, my cruise or travel diaries wouldn't exactly be like that, but never the less I would like to be able to write them.
I've really tried to keep a diary on our trips, both in my blog and in an ordinary diary, but I find it hard to find the time and strength to do it.
When I travel, I'm really exploring everything and when I get exhausted from all the exploring – I really need to relax and am not a good writer then…
Best solution would be:
- An automatic started Video camera on my head to record the world from my point of view!!!!
Though I do hope that I would remember to pause it in certain private situations…. *giggles*
If I didn't have this blog to write, I would probably use one of those online travel diary sites to do it:
Backpackers Diary
My travel log
Sometimes I even think that they are better suited for the job than my blog, but how could I abandoned this blog? No, no.
Though I would still have the need of writing one on paper, since I need to write down things along the way to not forget about them and I don't always have an internet connection.
From the beginning I start off very ambitious, writing down everything. Then it usually get off tracks totally….
Now I've convinced myself that I can write down some short words only – in a smaller diary – to get my memory back on track, but I'm not so sure it will work anyway.
Are you writing travel diaries? How do you manage to do it?
"I never travel without my diary. One should always have something sensational to read in the train".

Oscar Wilde (1854 – 1900), Irish poet, playwright, and wit. The Importance of Being Earnest
Captain ♥Trip Lifecruiser