Toulon – in Provence where the French Riviera start – is one of the cities in France with the most sunshine per year, lots of interesting architecture plus that it's the main naval base of France, so we just had to make a tour to Toulon too.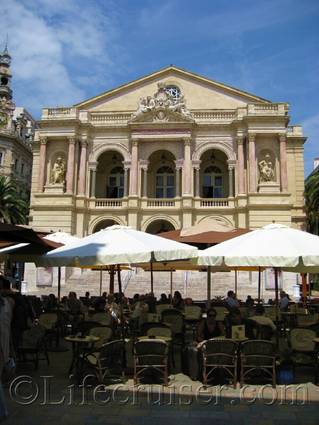 Toulon Opera House from 1862
Southern France, August 2009

The first really big attraction we did see was the magnificent Toulon Opera House from 1862, with it's gorgeous architecture. It's the second-largest opera house in France, after the Palais Garnier in Paris by the same designer as Marseille and Avignon opera houses: Léon Féuchures.
Toulon has a history that is three thousand years old, when the Ligures settled there and the name is linked to Telona, the ancient Ligurian goddess of sources.
Needless to say, all of us bloggers were in good mood this glorious sunny day in this wonderful town.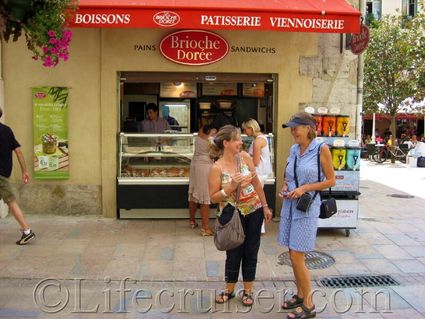 Claudie and Anna having fun in the street of Toulon.
Soon we decided to spread us all out, to go on our own and then meet at one of the cafés later in a couple of hours instead.
The main reason for going to Toulon were that it would give us super shopping opportunities – which it did in some way – but the weather was just too georgous to spend indoors in shops!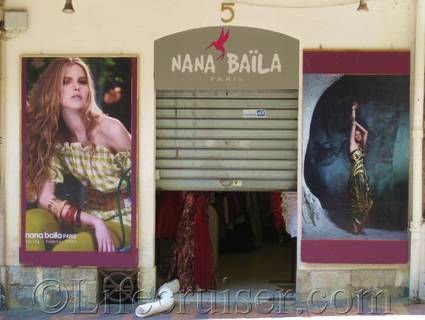 I loved some of the more creative shop fronts, but for hubby and me it was far more tempting to explore this part of Toulon city rather than the actual shopping.
We would have needed more time for that, so we just have to come back some other time, don't we?
The Toulon marina for private boats were like a magnet that draw us there. We had a really wonderful walk on the promenade along the calm water. It's something special with marinas.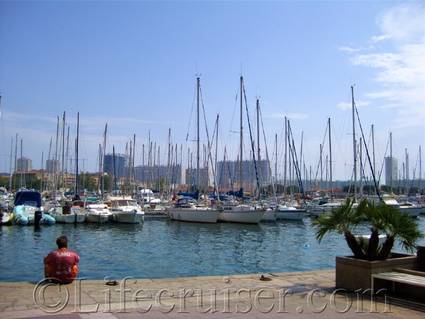 There is a limit on how much you can explore at one time – especially in that hot weather we had all the time in France and when you comes from a cooler country like for us Scandinavians.
Not to mentions the late nights every nights – you know how it is when a gang of bloggers get together, right? *giggles*
Down below is a slideshow of our best photos from our day in Toulon.
If you don't want to see the slideshow, you can see an overview over the photos at Flickr Lifecruiser Toulon photos.
Lifecruiser ♥ Toulon

Earlier posts in this serie:
Le Castellet Medieval Village
Vintage Marseille Soap Posters
French beach leach
Bloggers toast in France
Bloggers finally meet in France after three years of blogging
French blogger host lost
Start Fart of France Trip
Marseille Air Lair Stare
Pastis in Provence Southern France
Photographer beholder but not older
Connect Hotel Skavsta Airport