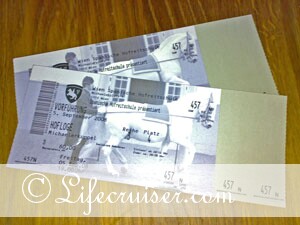 YES! One of my oldest travel dreams is to become fulfilled! I'm going to a gala performance of the world famous Spanish Riding school in Vienna with their wonderful Lipizzan stallions!
Not until September though. It's so popular that you have to order tickets months ahead. Actually this whole trip is an advance birthday present to me from my beloved hubby, even though my birthday isn't until October. I wanted to go to one of their evening gala performances and that didn't left us with so many choices.
We booked our tickets through ViennaTicketOnline.com and must say that we're delighted over how easy it was to use and pleased over their fast delivery. We got the tickets just 2-3 days after booking them!
Cost SEK 1563 ($258 / €170 where €15 was postage fee).
Read more to see how we booked a 5 nights trip with stop on the way, a river trip and the gala performance included even cheaper than a 3 nights trip!
To plan a trip to Vienna
Everything were hooked up on when we could get tickets for the performance, so to book the rest of the trip had to rely on that date totally. The search of flight tickets and accomodation took us both about 2-3 days to stitch together.
Why so long time? Well, all the travel package deals from Stockholm to Vienna always are so unnecessary expensive. I've kept an eye for travel deals to Vienna for years now and not found anyone that I've felt being quite worth it or at the right time…
Somehow when we've wanted to go before, the price for just the flight tickets for us two always seem to land at least at SEK 8000 ($1325 / €845) for only 2-3 days. On top of that you have to have somewhere to stay. I've always thought that for that price we can do another trip for two whole weeks instead.
When it comes to travel, I can sometimes get very greedy – I wanna pay as little as possible, to be able to go on as many trips as possible.
Suddenly we made it to a challenge to try to make this trip as cheap as we could….
Because we also had the Spanish Riding School performance to consider, we couldn't book any last minute offers, which had been the cheapest – especially since we typically enough found an offer from Resfeber.se just hours after we already had booked…
That is a last minute offer from SEK 6412 for 3 nights, which is another fact that have made it difficult for us to find any offer. Very often they're weekend offers with only 2 or 3 nights stay and quite frankly: how much do you get to see during that short time?
The first day you have the transportation to get there and even if you get an early flight, you get a bit tired since you've been up early to catch the plane… If you get a later flight, you miss that day in Vienna.
You can count away the last day in the same way, even if you get a late flight home, you're on the leap and can't do something time consuming.
I often want to book at least 4 nights at our city weekends. It depend on how much you would like to see of the city of course. I reason like this: when you have taken your time to actually take a flight there, why not stay for a bit longer to really get to see it?
To book the cheapest flight to Vienna
We started to look for the cheapest flight we could find and where else to look if not at Ryan Air? We've been flying with them at several occasions before and always been satisfied with them.
Sure, some people whine over their services, which I think is unfair. After all, you can't expect a first class experience when you don't pay for it! You get what you pay for and considering their low prices I'm more than pleased with them.
Very often their airports are smaller ones a bit from the city where you wanna stay and so is even the case this time. I often prefer to go to this smaller ones, because you don't have to walk so far to and from the gates and not search for the baggage claim either.
We found that they have a flight from Skavsta Airport, Nyköping to Bratislava, Slovakia right at the border to Austria and only about 60 km from Vienna.
If you have the opportunity to be really flexible with the dates to go, you always can find some cheap flights with them, but this time we was really lucky. We just had to change the return date once to get the cheapest prices possible: Zero fare cost for the flights – can it get any better???!!!
We did NOT choose any of their extra costs:
- SEK 94 per passenger to be one of the first passengers to board to the aircraft
- SEK 128 travel insurance (got that covered in our home insurance)
- SEK 282 per passenger with 1 checked in baggage each
- SEK 94 per passenger for check in at airport instead of online check in
This means that we only had the taxes and handling fees to pay, so the flight costs a total of SEK 476 ($79 / €50) for us both, instead of the SEK 1009 ($167 / €106). The price were cut in half without the extras.
This also means that we have to pack very, very cautiously since we only have our handbaggage! We should be able to manage since we're planning to have a very casual week over there, except from the gala performance evening at Hofburg.
Compare the flight tickets cost SEK 8000 ($1325 / €845) and SEK 476 ($79 / €50) and you'll understand what I mean with my statement that I rather want to do more trips for the money.
What do you choose: to be able to say that you've flown with an airline with more status or to swallow your pride and have enough money left to make more trips…?
To find cheap accomodation in Bratislava
Wise of earlier experiences (lol), we decided to not go to Vienna at once, but to stay the first night in Bratislava. You'll never know if there will be any flight schedule changes – or delays – and we don't want to be exposed to any stress. Besides that, we don't have anything against seeing some of Bratislava too.
Since we had decided to make this a cheap trip, we decided to book a hostel by Kilroytravels.se to the booking system of Bookhostels.com's, which also is used by several other big international travel booking sites.
We booked a night at the Downtown Backpackers Hostel, which is located in the Old Town of Bratislava, next to the Presidential Palace on Paneska Street. Cost for a double bed, private facilities: SEK 604 ($101 / €65).
A funny coincidence was that the same evening we had booked this hostel, there were a film on TV from Bratislava, called "Hostel" which hubby watched. That movie almost got us to cancel the booking! It was a horror movie where the guest at the hostel were slaughtered, chopped off body parts!
So are we scared to go there? Nah, I've checked up the reviews of this Hostel and dare to say that we're safe there. *giggles*
Transportation between Bratislava – Vienna
The Hostel has a very convenient location, not too far away from either the train or the shuttle boat. We're thinking of taking the Twin City Liner shuttle boat to Vienna on the River Danube.
It's only about 10 minutes walk from the Hostel to the place where the shuttle boat departure and it takes approx. 1,5 hours at a cost of SEK 245 ($40 / €26) per person.
We're not sure yet, how to get back to Bratislava to catch the return flight of ours, if we'll take the shuttle boat or the train which we could check the timetable of at the ÖBB Train ticket site.
I've read somewhere that if you go by train, the ticket is valuable even to Bratislavas transport system when you arrive there, which could be a benefit when we moves around there the last day.
To find cheap accomodation in Vienna
Even here we decided to look for a Hostel and found one at hostelworld.com that we thought stood out more than the others, with good reviews the Wombats City Hostel Vienna – The Lounge.
Our only problem were that they only had a double room free for 3 nights, so we booked 3 nights there at the cost of SEK 1379 ($228 / €150).
Since our last night is the one when the gala performance will take place, we decided to book a Hotel nearby Hofburg Palace (where the gala performance will be held) instead. However, that was easier said then done!
We were surprised that Vienna seems to be very popular even at that time of the year – September – we thought that the high season would be over at that time, but we actually had some problems since it were already booked at many of the Hotels we wanted to stay.
We could literally see them get full booked while we're searching. After hours of searching for the right one for us, a budget hotel nearby Hofburg, we found Graf Stadion Hotel (***) at the site Booking.com. Update: If you will go there, search this site for Hotels in Hofburg Palace instead, we did regret going with the one above, it was not in the right location and very ordinary.
We're satisfied with the rate: SEK 1011 ($167 / €110) for both of us in a double room. I hope we'll be equally satisfied after being there too!
Summarize of the trip to Vienna
Instead of choosing a package deal for SEK 8000 ($1325 / €845) for only flight and maybe, if we got lucky, hotel for 3 nights – which would only give us a brief view of Vienna and nothing else, we choose the budget alternative way of travel.
This way we get to see 3 cities: Nyköping in Sweden, Bratislava in Slovakia and Vienna in Austria, plus have a nice river trip and tickets to the gala performance – for less money!
Cost transport and stay 5 nights/6 days for two:
Airport long term parking:
SEK 460 ($76 / €48)
Flights:
SEK 476 ($79 / €50)
Shuttle boat 2 ways:
SEK 980 ($96 / €104)
Hostel Bratislava:
SEK 604 ($101 / €65)
Hostel Vienna:
SEK 1379 ($228 / €150)
Hotel Vienna:
SEK 1011 ($167 / €110)
Gala performance:
SEK 1563 ($258 / €170
Total cost: SEK 6473 ($1005 / €697)
Note: If we had been able to book 4 nights at the Vienna Hostel instead of 3, the total cost would have been SEK 476 / $79 / €50 less than the above.
We also get the chance to try out some backpacking, which we haven't really done before and need to try before going on other trips.
Which other trips…? Well, you just have to wait for me to write about that, won't you? *teasing you*
Lifecruiser ♥ Travel