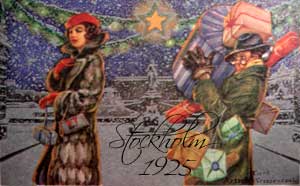 Mr Lifecruisers heavy xmas tackle
Shhhh! Don't tell anyone. We've not done our TITS tackles as we should have done. Oh, so you noticed that already?
We don't have any peeping pictures yet either. We do have a lot of projects waiting or going on… but somehow other things sneaked in between. Or out maybe I should say… It's NOT a good idea to do tackles with an upset stomach, kind of make the cleaning a never ending act

Have you also noticed how easy it is to come up with a hundred of other things to do when it's some tackle you find a bit difficult or boring? *s*
Yes, I know we should have sorted the porcelain boxes as priority #1 since they're really standing in the way in the livingroom, but it was more fun to go out shopping for xmas gifts.
I'm the one with TIT's, but it's Mr Lifecruiser that's doing the tackles of them… *giggles*
Yes, I know we should have cleaned the bathroom totally, instead we went out shopping a new vacuumcleaner, so now Mr Lifecruiser is vacuuming practically every day! Nude too! *S*
Yes, I know we should continue to clean the kitchen cupboards, instead of quitting when Mr L had cleaned one of the biggest of them (Nude again, he got so warm! What a sight!*LMAO*) and was halfway through with putting in shelf paper in there. One corner of the kitchen floor is now filled with tools, shelf paper and stuff.
And we put up our few christmas decorations we have instead and cleaned half our computer desk, so now we want to sit by that half both of us… So now I'm a Lap Wife! *LOL*
I know we should wipe the floors before Christmas too, but there is still a lot of days until it's Christmas isn't it? Say yes or I'll never visit your blog again!
(Wait, that might sound tempting to you, so I'll take that back! Sorry

So instead we'll bake Lussekatter today, since we celebrate Lucia here tomorrow. (= Come back tomorrow to get some glögg & lussekatter!)
The Naked Cleaning Duo (as Danielle calls us)
Reminder rest Tit's:
- Porcelain boxes
- Clean bathroom
- Kitchen cupboards
- Clean hall closet
- Basement storage
- Sales ads
See the latest post and Tackle It Tuesday participants over at 5 minutes for mom.
---
Help the ants to fight the elephants by support Lifecruiser in The Weblog Awards 2006!
♥ Vote every day to Saturday for us here ♥
(Why don't make it to the startpage in your browser?)