We have been tempted to travel to Menorca for years, hearing friends that have been at holidays in menorca saying that it is such a gorgeous island and that it is not so exploited as the other Balearic islands.
Menorca is an eastern Balearic island with their main city named Mahon. There is the biggest harbor after Pearl Harbor and it is also one of Europe's biggest natural harbors.
They say that Menorca is not as exploited as it's sister islands Majorca and Ibiza, as well as not so much party-life going on. I don't know if that is still true – if you know, tell us.
One very interesting fact about Mahon is that it is said that the recipe of the mayonnaise (one of our favorites!) once were born in this town and brought back to France after Louis-François-Armand du Plessis de Richelieu's victory over the British at Mahon's port in 1756.
Menorca is an absolute must travel destination for horse lovers like us, because the amount of horses per square kilometer is the highest in Europe! They have an own horse called Caballo Menorquin – the islands pride – locally bred black horses, which plays a very important role in the islands traditions and festivities.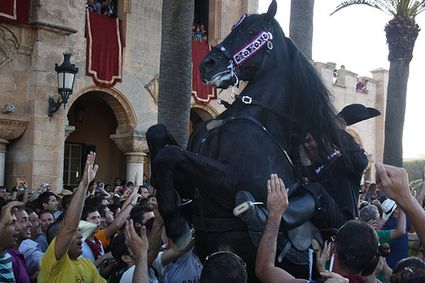 Photo by Roser Goula
We will definitely NOT miss the three days traditional summer fiesta, Festes de Sant Joan, in Ciutadella (I want to explore the old town, surrounded by the Contramurada and narrow streets), with sheep-bearing (!), parades, bonfires, riders, competitions and above all: it ends with fireworks.
Then we have the three B's: Birds, Butterflies and Blooming flowers. Our favorite reasons for going to a special travel destination. To Menorca it would be ideal to go in April and May, to be able to see as many wild flowers (even Orchids) as possible.
I find it very interesting that some of the earliest culture on Menorca was influenced by – among other – the Minoans of ancient Crete (our honeymoon island). Early people of Menorca imitated inverted plastered timber columns at Knossos.
The Menorcan's have a local favorite drink, the Pomada – Gin (influenced by the Brit's) mixed with bitter lemon – that I would love to try out. I can imagine that it's tasty when it's hot temperatures.
I think I would like to go to Majorca once again and then from there take the ferry over to Menorca, exploring Menorca island as an (long) extension to the Majorca stay.
If you have been to Menorca, please feel free to leave any tips in the comments.