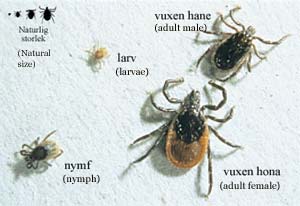 Foto: Baxter
♥ Join Green Thumb Sunday ♥
Now when the nice weather drive us out to enjoy the nature, it also brings other less pleasant things in our way: Ticks!
We have a bunch of Roedeer's coming here very often to eat of the birdfood the neighbours put out at the next house. The Roedeers are cute, butt I don't really like this, because they are known to be hosts for a lot of Ticks and that is one creature I for sure don't want here!
I read somewhere (don't remember where) that Ticks have been around for a hundred million of years. They're so old that they used to feed from dinosaur blood. Though I can't remember that we ever have had this much Ticks during my whole life as there is nowadays.
Out in the Swedish east coast there is many ticks. I guess they like the humidity, I read that they must have that to thrive – and mild winters. I just find it so sad that we're not able to really relax and enjoy the nature without being afraid of getting tick bites.
One of my sisters lives out at the coast in the beginning of the archipelago and it's just full of ticks there. They have to trim the lawn very short, you can't go anywhere where it is any high grass, because you'll for certain have one or more ticks walking along your legs then!
Tickborne encephalitis (TBE) is a viral infection of the central nervous system transmitted by bites of ticks or by consuming unpasteurized dairy products from infected cows, goats, or sheep. The risk of getting TBE is greatest between April-August, when the tick (Ixodes ricinus) is most active over here.
Sweden has not as much cases of TBE as certain other European countries, butt it's still too much for me to feel comfortable with it.
We're getting vaccinated now, had our first one a couple of weeks ago and going in for a second one in the end of May, then we have protection for a year. After next years shot, we'll have take a shot every 3 years to keep the protection.
TBE is a very nasty disease if you happens to belong to the little group where it progress into a neurologic infektion. The death-rate of TBE (in Europe) is 0.5% and a post-encephalitic syndrome and neurologic secundary disease is seen in over 40% of the cases, often with an impact of their life quality.
I'm not sure if it would make any difference in my nut case…. *giggles*
There is no treatment. Luckily the vaccine seem to be very effective, not 100% though, so you're wise if you continue to protect yourself after the vaccination by avoiding tick-infested areas, cover your body with clothes, using reppellants and not consume any unpasteurized dairy products.
Even if you haven't that much of Ticks or TBE in your country, I recommend you to get the vaccination anyway, since it's increasing beacuse of the Global Warming – and especially if you travel.

We got our vaccinations by our local medical center (vårdcentralen) which have some open receptions for TBE-vaccinations at certain dates. There is even special Ticks-buses driving around in Sweden to get out to the people.
The vaccinations costs about 250 Swedish crowns ($36.65) per vaccination – wouldn't you say it's a cheap life insurance?
Have a look at Baxters cute (?) animation of the tick where you also can read everything else about ticks and the vaccination.
Now, I'm going to forget about unpleasant things like ticks and take off to have a smashing time with Mar in Hamburg at our Sunday cruise stop – come along you too!
Captain Shot Lifecruiser



Sundays port: Wilkommen Höft in Hamburg.
Host: Mar.
Next port: Monday 14th of May – Greek Festival, US.
Host: Sword Girl
Do you want to hop aboard at next event?
Read about Cruiser Grades.
Read more about Lifecruiser cyber cruise.
Cyber Cruise Calendar 2007
Cyber Cruise Souvenirs

Lifecruiser Cyber Cruise in Technorati