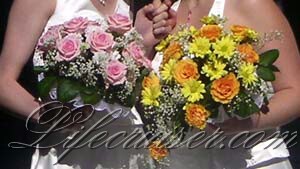 ♥ Join Green Thumb Sunday ♥
We went to a wedding yesterday and I must ask myself if there is any more beautiful flowers than wedding bouquets…?
They're giving so much inspiration, happy and emotional thoughts

I love weddings. I've only been to my two sisters weddings before – and my own of course. People were not into marriage in earlier periods of my life – it was just not trendy!
I wish there were more weddings overall and certainly in the family, butt I can't see that happening in a couple of years at least. *sigh*
Stay tuned to read more about this wedding tomorrow…
Captain Natura Lifecruiser

Cyber Cruise Tips:
Fashion: R'acquel's dresses.
Do you want to hop aboard at next event?
Read about Cruiser Grades.
Read more about Lifecruiser cyber cruise.
Cyber Cruise Calendar 2007
Cyber Cruise Souvenirs
Lifecruiser Cyber Cruise in Technorati

© Copyright
Lifecruiser.com
. All rights reserved.