It was a year ago now since we were in Sanlúcar de Barrameda, Andalusia, Spain and experienced the big famous event of the pilgrimage Romeria de San José.
This is an ancient tradition from around 1280 for the Spanish people to make a pilgrimage to the White Dove, the Virgen del Rocio – in the church in El Rocio, Huelva.
It's done 3 times a year. This one was around the Dia de San José (San José Day) in March, with people from Andalusia participating. There is also one in May and another one in the autumn, but that one is by foot.
There is a telling about how the third voyage of Christopher Columbus (1498) had to delay the departure from the Sanlúcar port until the crew returned who was on the pilgrimage of El Rocio.
We were absolutely stunned, because Sanlúcar was invaded by thousands and thousands of gorgeous Spanish horses, with wagons or riders (Romero's) and even donkeys etc.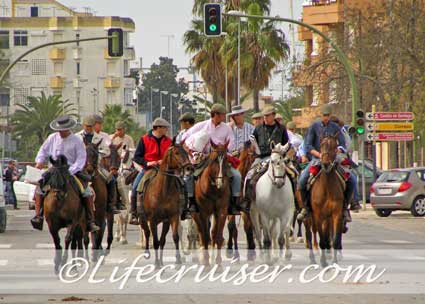 Where ever we looked there were horses and peoples in a very festive mood. We had such a good time just watching this stream of equipage coming into town – and it never seemed to stop, an endless stream it was.
I've never seen so much horses in my whole life and those were beautiful Andalusian horses mostly. This one looks almost exactly like in a saga!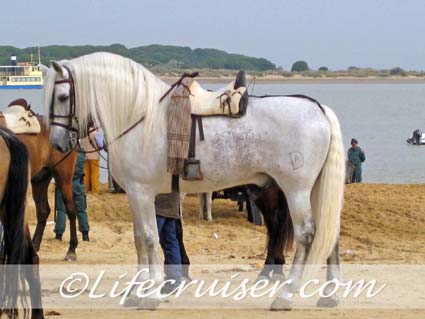 We soon found out why they came exactly that way: they were planning to cross the river Guadalquivir with the ferries, to get to the Doñana National park which they're riding through to get to El Rocio.
Can you imagine to pack yourself in with all those horses on the ferry to cross the river?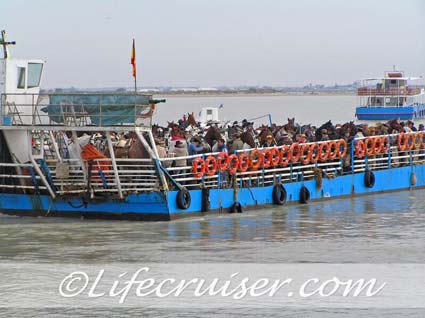 They were jammed and the ferries (several) went back and forward in at least 2 days to get them all over!
They had a lovely road in front of them, staying overnight in the national park, some sort of camping out. You can see that they're well prepared with their wagons. What a feast!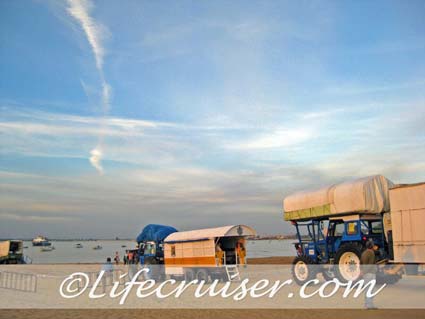 Sanlúcar looked very empty afterward when they all had left, abandoned like a good old Western ghost town.
The place where they were heading, El Rocio, looked very similar to an old Western town with sandy streets and places to tie up their horses outside the saloons… Ehrm, I mean restaurants.
Yes, we just had to follow them there to see when they arrived at their goal and had an absolutely fabulous day, photographing, eating and drinking, watching the people and horses.
Something that's very striking on some of the horses, are their manes. Just have a look at this gorgeous one: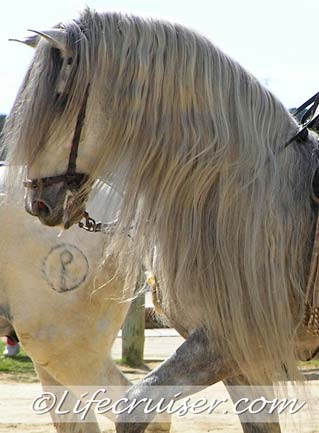 This is such a combined folk feast really, on one hand something religious, on the other hand an excuse to have a giant party and meet family members, relatives and friends. We love it, such a fantastic experience.
First thing they did when arriving was to go straight into the church and visit the virgin to be blessed by her. As you can see the church is very well maintained, a really beautiful church.
When they came out, some of them went to rest I'm sure, but there were some very persistent romero's that kept partying on the horseback all evening!
We couldn't force ourselves to leave that festive atmosphere with the singing and partying Romero's, so we stayed late in the evening having such a good time. Ah, what a memory.
Little did we know that we should be so lucky to aim our stay in Sanlúcar at the right time to be able to see one of Spains most famous romeria's, which for a horse lover like myself, was like being in heaven. It was a traffic stocking, but by horses!
This was only the small one, the big Romeria del Rocio is in May (I think it's 27 May – 3 June 2009): when people comes from the whole Spain: up to a million of them! Just to see the lady.
There are 4 main routes:
Sanlúcar, used by people from Cádiz province
Los Llanos from Almonte (the oldest one)
Moguer, used by those from Huelva province
Seville, most popular for other provinces and even from abroad
If you're planning to go to Andalusia, be sure to go there during the Romeria in May – though I suspect that you have to book your accomodation well in advance as always when there are big events.
See Lifecruiser's Romeria San José photos overview if you're short on time – or all of them in the Romeria San José photo slideshow.
It was such a great time and we wouldn't mind going back another time!
Lifecruiser ♥ Andalusian horses