We were lucky enough to have the rare opportunity to get on a 1,5 hours tour with a Swedish medieval cog ship visiting Visby harbor. This Cog ship is a rebuilt copy of a cog ship from 1390, the worlds oldest known fire-armed ship.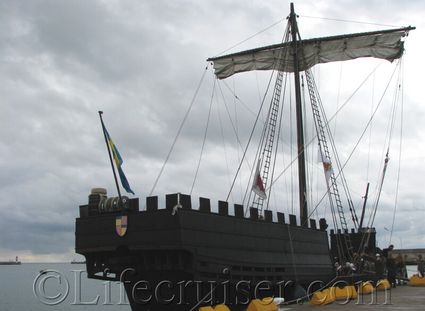 The Cog Ship type was the absolute most common in northern Europe from the beginning of 1100 and long into the 15th century. They have a very flat carvel built bottom with a high fore and stern, making them more easy to defend during sea battles.
The Cogs only has one mast with one big raw canvas sail. This ship, Tvekamp af Elbogen, canvas is 225 square meter big and not allowed to set sail with passengers aboard, due to security issues. Instead we went by a help motor with a power of 70kW.
The project to build this Cog Ship was the Nordic countries biggest medieval project during 1998-2003 and the responsibility of Fotevikens Museum, which had both the archeological and overall responsibility to build those scientific reconstructions.
The original Cog Ship was wrecked outside the town of Skanör in the southern part of Sweden and it was not until the beginning of 1990′s the ship findings were dug out. The Cog was built in the Mecklenburg area and is the biggest Cog ship found so far.
The Cog Ship had at least four guns on deck which makes it the worlds oldest known fire-armed gun ship. Probably this ship was included in a pirate fleet which were plundering the Nordic coasts after that Queen Margareta had taken the power in 1389 and captured the Swedish/German King Albrekt of Mecklenburg.
From his prison, King Albrekt succeeded to get out his orders to his old home country Mecklenburg to gather a fleet and plunder the queens coasts. During several years thousands of sailors and warriors were sent out from just that area where Skanörs Cog Ship were built at the same time.
They loaded one of the guns with flour and oats and did fire it for us when we were returning to the Visby harbor, giving us a great show how the guns could bang. As you can see in the photo above the crew were wearing authentic clothes.
Today's Cog Ship Tvekamp af Elbogen, has been out at longer sea trips and several German harbors has been on call. Even a trip north along the Swedish west coast. Those trips are of big scientific value, to test the ships seaworthiness and to get insight in how it was back in the medieval time era around the Baltic Sea.
Of course the ship crew was wearing medieval dresses to get it as authentic as possible, but also some of the passengers I think, since it were a Medieval festival in Visby this past week. A very nice touch, don't you think?
Information source: The Swedish Archeological Open Air Museum of Foteviken, which also has a lot of historical activities – even a Viking village.
Click to see more of Lifecruiser Cog Ship Photos at Flickr.