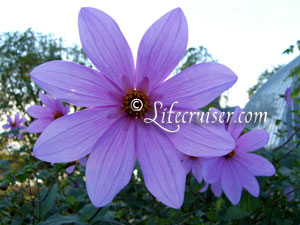 ♥ Join Green Thumb Sunday ♥
This is called a water lily Dahlia over here. The right name is Dahlia x Hortensis "Twilight Time", cult. Mexico, Asteraceae. I've never seen any one like it, it was very big too, which doesn't show on the picture.
I think my Mom would have loved it, but unfortunately she can't come out and see it any more. This garden where this is taken, Bergianska, is too far away from her bed and she has too bad vision nowadays.
The reason for me saying this is that it's Mothers Day over here in Sweden today, so we're going over there to celebrate.
"What the sunshine is for the flowers, the smile is for the humans".
That saying reminds me of my mother very much, because despite the fact of her very difficult life and situation, she always have her wonderful laugh – or giggle, which I admire her tremendously for.
Happy Mothers Day

Captain Giggles Lifecruiser
UPDATE: If you want to see a real Scottish Castle, hop over to Caledonia to see her post about Stirling Castle!

Do you want to hop aboard at next event?
Read about Cruiser Grades.
Read more about Lifecruiser cyber cruise.
Cyber Cruise Calendar 2007
Cyber Cruise Souvenirs
Lifecruiser Cyber Cruise in Technorati