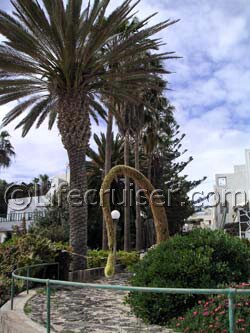 ♥ Join Green Thumb Sunday ♥
This is supposed to symbolize my back – not Mr Lifecruiser's condition! *giggles*
The past 2 weeks I've been really slacked, like a cat in bad weather, just wanted to stay inside and roll up somewhere cosy

I guess I'm not 20 any more (surprise! *giggles*) and the weather is tough this summer. We've had a pressuring weather, to put it mildly. First rain and windy and now it has been the pressure in the air as if it should come thunderstorms, butt it hasn't. Yet.
Any one having any idea of what the kind of tree/cactus this is and have any theory of why it's slacked?
It even looks like some kind of Loch Ness creature… It really shouldn't be slacked, if you look at the other trees and bushes there, they look just fine. This photo is taken in Fuerteventura, Spain.
It's always a real pleasure to go abroad and see what kind of plants and trees (and animals!) you'll find there that you can't find at home.
My back is preventing me from travelling right now and that's also how I got this idea about the Lifecruiser Cyber Cruise! So out of something bad comes something good suddenly

It has been a lot of nice cruiser partying, butt since it's Sunday today, I'm taking the day the slack way. I need to rest some time. *giggles*
Since we're having different time zones, US still has evening when it's night here in Sweden, I've stayed up until morning when we've been partying!
Don't forget to come back tomorrow though, so we can go to the Edinburgh Festival together

Oh, and check out Maribeths post: When The Moons Come Over The Mountains – hilarious bending there too!
UPDATE: I got an answer on my question about the tree from Aiyan at Water When Dry who is a certified Desert Landscaper and Master Gardener in the Phoenix, Arizona!!!
"Your Loch Ness appears to be a Washingtonia robusta (Mexican Fan Palm) that has bit the dust. There are two types of palm trees in the photo–the Mexican Fan Palm and the Date Palm (Phoenix dactylifera.) The bent appearance is caused by the decay process going on in the trunk. It appears the fronds have been removed to prevent litter. Both of these types of palms are extremely common in Arizona and we see a few of the Mexican Fan Palms in their death throes every year. This usually happens during the initial transplanting that fails, but there are many other pathogenic causes.
Aiyan"
Thank you so much Aiyan

Captain Slack Back Lifecruiser

Last Cyber Cruise Events:
♥ The Rolling Stones Concert
♥ Monaco
New Cyber Cruise events::

♥ Edinburgh Festival, Scotland, Monday 13 Aug

Coming Cyber Cruise events:

♥ Dröbak, Norway
♥ Castle Howard in Yorkshire, England
♥ Another castle in Lincoln, England
♥ Fulu Fjäll (mountain), Sweden
♥ Linneaus week, Uppsala, Sweden
♥ Denmark
♥ Algarve, Portugal
♥ Scotland (several posts)
♥ Fuerteventura, Spain
© Copyright Lifecruiser.com. All rights reserved.