Meet my colorful artistic kind of feet! My scanned sole of the foot. You can see where I put down my feet – that's the red part of them.
I had no idea my feet could be that interesting… *giggles*
Remember that I mentioned a while back that I had an appointment with a man that had worked at the orthopaedist and now makes pelotts (pads) for the shoes at The Runner Store?
I decided to go for it. The health comes first after all, even if those are rather expensive – 1600 Swedish crowns ($222), no help is provided from the health care – don't ask me why, because I don't understand myself why the feet doesn't count as part of our body….??!!
Anyway, I went there to meet the feet-man (lol) who is recommended for his excellent knowledge about it. Appearently he does something more than the others, I heard that he fill up the sole more.
First I had to take off my socks and shoes and step up to the mirrorbox. When he turned on the light on that box, we could see my sole of the foot mirrored.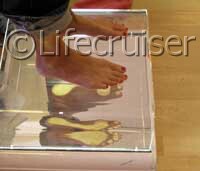 From this he could more clearly see that I needed a pad in my shoes and that my front pad on my feet has begun to sink down just where it meets the arch, so it was not the arch that has lowered itself which is the most common fault.
This means that I get more load on my big toe joint and that's why it has begin to cramp for me – and will within time create the painful Hallux Valgus if I'm unlucky. He could also see that I twist my left foot more inwards which cause me some knee aches.
Next step was to do a complete feet scan, so he could get it into his computer. I just had to sit down and put my feet up against the scan and he did a scan.
The result of the scan is of course the top picture of this post. From that picture he makes models of my feet and then the pads after them. So it is completely customized, made after my own sole of the foot.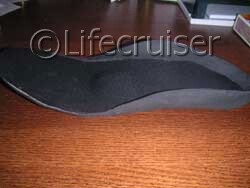 The pad is filled at the needed places of my feet, to support it to not sink down, so I can actually feel almost like a little egg in there. The arch is of course extra filled too. He adviced me to start carefully with the use of them in the beginning.
He did a last polish of them to fit my shoes more exactly when I came to collect them. I can move the soles between my walking shoes and boots, butt unfortunately they're too big for the summer sandals…
Only thing I have as a complaint is that the soles are black and very warm. They colored my white socks and I weren't even that sweaty.
Overall, I'm very pleased with them. They sure are fitting my feet and supporting them and my back. So far, everything is good, no cramps yet.
So if you happens to be in Sweden and you see something bouncing around, it might be me

Thanks to my paddy-daddy.
Captain Padmad Lifecruiser

Last port: The Archipelago Boat Day, see 2d post below this.
Do you want to hop aboard at next event?
Read about Cruiser Grades.
Read more about Lifecruiser cyber cruise.
Cyber Cruise Calendar 2007
Cyber Cruise Souvenirs
Lifecruiser Cyber Cruise in Technorati

© Copyright
Lifecruiser.com
. All rights reserved.