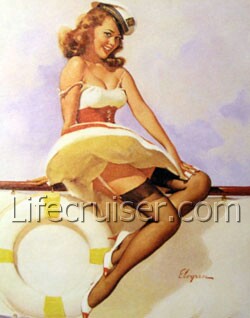 Gil Elvgren, 1969.
© BROWN & BIGELOW INC, ST. PAUL, MINNESOTA
Welcome to celebrate the new Lifecruiser ship!
The sea voyage is more than an adventure; it is a rite of passage, as decisive as a wedding. It marks the end of the old self and the birth of the new.

Jonathan Raban (1942 – ), British author. Granta Book of Travel, "Sea-Room" (Bill Buford (ed.)
And now it's time for something you all know is Lifecruisers signature: open the Dom Perignon!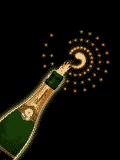 *Spraying Dom all over the ship*
CHEERS to Leanne, that did all this refreshing of our ship – and for YOU all my dear cruisers that makes the time here at the Lifecruiser ship so enjoyable!
Please take some drinks and food and mingle with all the others

♥Congratulations to Renny that came in third in the Weblog Awards 2007 category "Best European Blog" with 871 votes and Lifecruiser only in the 8th place with 112 votes. At one point it looked like Renny would win, so it were a thrill, but no…
I'm very proud over my votes and gives all my supporters a lot of hugs (kramar) for supporting me all this time – and all other time too! You're noted in the Captains logbook with extra stars

We have some cruisers away right now, that will make more detailed cyber cruise reports later: Tor in Miami, Gattina in Egypt, Chase in the Philippines and now Maribeth soon is going cruising the Panama Canal for two weeks. Meanwhile they may write something from time to time, so make sure to check in at them too see what they have been up to!
A little taste of coming cyber cruises, not necessary in this order: Portugal, Egypt, Spain, Hunt for the Secret Spa, Greece, Denmark, Germany, Miami, Panama Canal, Philippines, Argentina, Brazil, Paraguay, LC Blogwarming Party 3, and Scotland.
And if I know my cruisers right, you'll continue to fill up with a lot of new cruises along the way, so this really is a never ending story!
Let the cyber cruises continue, the Dom Perignon flood and the giggles last for ever

Captain ♥Party Lifecruiser