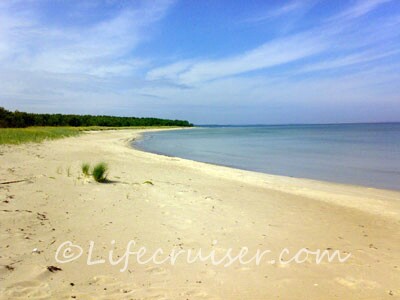 ♥ Join GTS ♥

Green Thumb Sunday
Our summer paradise, the small island Fårö, outside Swedens east coast, has a lot of wonderful sand beaches, among Sweden's best beaches.
This is just one of the smaller ones of them, Skärsviken, which is not so known of the tourists – as you can tell because it's so empty despite the fact that this is in the middle of the day.
In this photo taken in July 2007, you can see that the beach and the sand dunes are very flat, which is not always the case. They changes a lot from year to year depending how the weather has been in the winter.
The year before that, there were bigger sand dunes to take cover in, both from the wind and nosy eyes

What's so special with this particular beach is that the fine sand makes a screeching sound when you walk there – even if you're barefooted!!!
The other beaches at Fårö doesn't make this kind of screech, but that may be because they have even more fine sand than this one has. The other ones sand quality is the finest there can be.
I've never heard that screeching anywhere before, have you?
Captain ♥Beaches Lifecruiser