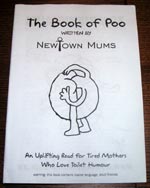 I'm so excited – the Poo has finally arrived! Yeaaah! I have been waiting so unpatiently…
It's raging wonderful aka R'acquel that has sent me this amazing gift.
I'll send her a surprise in return – and no, it will not be anything Poosh, but yet enjoyable.
(I must make her curious, it's more fun this way… *s*)
I must admit though, that I never thought that I should be soooo excited over a bag with Poo… *LMAO*
The Book of Poo Poostage paid was $1.85 – really fantastic if you think about that this envelope has travelled across the whole world – Australia in the south Poole and Sweden in the north Poole so it's really on the opPoosite side of the world from each other – and fast too!
Even more fantastic is it that this book of Poo were dumped in our mailbox today of all days – the day when our plumber woke us up at 07.20 in the morning (after a bad night) to tell us that he is coming to fix our toilet that has been on a strike a while – we've not made any Poo pile though…
…and I'm not sorry for the vision that gave you!!! *giggles*
But I promise you: that is nothing to what you get from the Book of Poo! I'll curl up like a pile of Poo and read about all that Poo stuff now – and be prepared of laughing cramps!
Or I may go to the loo to poo first to test the plumbers work, so there will be no accident when laughing too hard…. I've always been very foresighted. *lol*
This book actually couldn't have ended up in more competent hands… Remember: this is the home were your poo's speed, consistency, color, size and smell always is described in details.
We even have Poo records. No one want to judge though

I maybe be potty and have a shitty humor on this shitty blog, but I just LOVE this – it's one of lifes most essentials. In several meanings….
So we're having an extra shitty Monday over here

Please feel free to tell us about your shit too!