We've tried many times to get photos of the different sea birds around Fårö island. Our favorite one that we've wanted to catch is the Oystercatcher (Haematopus ostralegus) or in Swedish: Strandskata).
It's very difficult to get great photo shots of birds. This one below is more close – still not a really good one, but you can see what it looks like at least.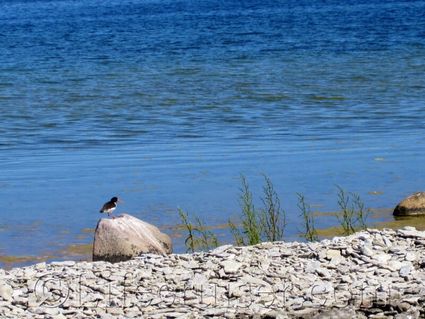 Mostly they fly away, move or dive just when you put your finger on the trigger – like the bird diving in this photo below, right?
Don't you see it? Well, it's the small white spot in the Sea above the left rock…. *giggles*
Earlier we always saw and heard lots of them on the field outside the farm, but they aren't here as much as before for unknown reason.
You will find more at Lifecruiser's Fårö Island Summer 2010 photos.
Lifecruiser ♥ Fårö Birds