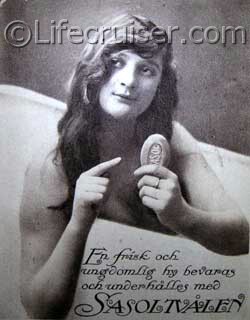 This is an ad from an old Swedish lady magazine called Husmodern (The House Mother) from 1925 that I found.
"A healthy and youthful skin is preserved and maintained by The Sasol Soap"
Oh, I bet this was an almost naughty ad since she is halfnekkid – at least with that times judgement.
I love her hairstyle – and nose! Have you noticed that they seemed to have bigger noses back then? Or is it that all people nowadays that have bigger noses do plastic surgerys?
Except from me, of course

Already at that time, there were ads to make us buy more beauty. Incredible. Not much difference from now.
When will we ever change?