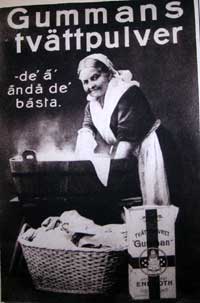 Husmodern (Swedish magazine) 1923
OK, this wasn't what I had in mind to keep me occupied. The ultimate mean clean.
First: my sister went ill again and there were some cleaning involved there too, but I'm sorry I can't tell you about it….
Let's just say that this have and will keep me a bit more occupied than usual - in case you have or will miss me. I can't make around to you all for the moment. You understand that, I hope. Real life and near and dear ones have to be put before blogging - or? *LOL*
Second: I'm really occupied washing for the moment, I've been neglecting it too long now. No clothes to put on soon! *lol* Yeah, yeah, I hear you, but it's too cold to go naked! Really!
Third: Today my computer was nearly washed out by an evil Trojan and bootsector virus. Despite the fact that I do NOT open email from strangers, I haven't installed any new programs, I've not been on any less serious websites (no porn, we make it ourselves

. How the heck did they get here? *sigh*
I've been working on it now and I think my other darling, Avast Antivirus, and we did it together, we washed the virus out! I do hope it will continue to work and not come back!
I must say that I'm really impressed by Avast and especially that they make it available free for home users. That is truly very generous of them. This is the second time Avast saves me. The first time I had Norton Antivirus, but that didn't help at all.
Thanks ALWIL software for Avast Antivirus

The old cleaning lady
UPDATE…
Fourth: Tonight I'll have difficulties to sleep since my best friend Miss Ass. Lifecruiser phoned late in the evening to tell me that I shouldn't be worried, but she is on the way in to the hospital…. Terrible pain in the bowel area. Let's hope it's nothing difficult, because it usually is when it comes to her. I've never meet any person with such a bad luck!!! When shall she ever get any peace and quiet…?